New Release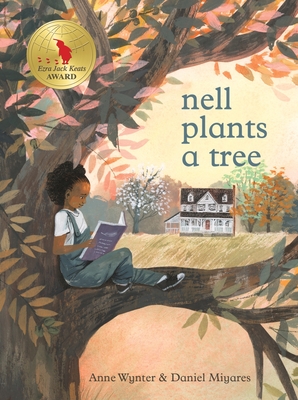 Nell Plants a Tree
Publication Date:
January 31st, 2023
Usually Ships in 1 to 5 Days
Description
This gorgeous picture book shows how one little girl's careful tending of a pecan tree creates the living center of a loving, intergenerational Black family. For Earth Day and every day! Perfect for fans of Matt de la Peña and Oge Mora.
Before her grandchildren climbed the towering tree,
explored its secret nests,
                      raced to its sturdy trunk,
                                  read in its cool shade,
                      or made pies with its pecans…
Nell buried a seed.
And just as Nell's tree grows and thrives with her love and care, so do generations of her close-knit family.
Inspired by the pecan trees of the creators' own childhoods, Anne Wynter's lyrical picture book, brought to life with breathtaking illustrations by Daniel Miyares, brims with wonder and love.
Praise for Nell Plants a Tree
"Toggling between two timelines, Wynter tells a warm, affectionate story behind a cherished pecan tree and an intergenerational family. Pen and ink, gouache, and collage artwork by Miyares exudes the golden light of autumn, and prose by Wynter shimmers with evocative sense words—it's almost possible to smell the pie." — Publishers Weekly (starred review)
"Gorgeous images and text chronicle joyful childhood experiences—a future classic." — Kirkus Reviews (starred review)
"Wynter's text sings with the economy and elegance of a poem, and specificities delight ("a leaf flecked with holes"). Miyares's illustrations, which capture light especially well, reflect the wonder of friends, family, the outdoors—and the magnificence of a tree that began when 'Nell picks up a seed.'" — Horn Book (starred review)
"Miyares' pen-and-ink, gouache, and collage illustrations pair well with the two story lines, effectively expanding the concept of a family tree being both a physical tree and a representation of loving relationships." — Booklist (starred review)
"A beautiful homage to how the labor and vision of previous generations can benefit so many who come after. Miyares' illustrations capture that ineffable sense of home... and gouache collage lends each spread a timeless glow that is perfectly suited to Wynter's text. This would be an excellent read-aloud choice for Arbor Day or Earth Day."
— Bulletin of the Center for Children's Books
"Wynter's prose is spare, lighting like a little blue bird on the moments that matter, and it combines with Daniel Miyares' recognizable ink and gouache artwork to skillfully elicit the feel of a lazy summer day....Generations of readers will be inspired by this sweet story to plant seeds of their own." — BookPage
"Care, growth and abundance for the future — in both tree and family — make this a vital, timely book." — Toronto Star