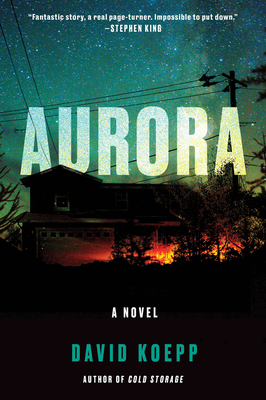 Aurora: A Novel
Publication Date:
June 6th, 2023
Publisher:
Harper Paperbacks
Good Neighbor Bookstore
3 on hand, as of Dec 9 8:07am
(Mystery/Thriller)
On Our Shelves Now
Description
SOON TO BE A MAJOR MOTION PICTURE FROM NETFLIX AND ACADEMY AWARD-WINNING DIRECTOR KATHRYN BIGELOW
"Fantastic story, a real page-turner. Impossible to put down." – Stephen King
From the author of Cold Storage comes a riveting, eerily plausible thriller, told with the menace and flair of Under the Dome or Project Hail Mary, in which a worldwide cataclysm plays out in the lives of one complicated Midwestern family. 
In Aurora, Illinois, Aubrey Wheeler is just trying to get by after her semi-criminal ex-husband split, leaving behind his unruly teenage son. 
Then the lights go out—not just in Aurora but across the globe. A solar storm has knocked out power almost everywhere. Suddenly, all problems are local, very local, and Aubrey must assume the mantle of fierce protector of her suburban neighborhood. 
Across the country lives Aubrey's estranged brother, Thom. A fantastically wealthy, neurotically over-prepared Silicon Valley CEO, he plans to ride out the crisis in a gilded desert bunker he built for maximum comfort and security.
But the complicated history between the siblings is far from over, and what feels like the end of the world is just the beginning of several long-overdue reckonings—which not everyone will survive . . . 
Aurora is suspenseful storytelling—both large scale and small—at its finest. 
Praise for Aurora: A Novel
"Fantastic story, a real page-turner. Impossible to put down." — Stephen King
"Forget a good night's sleep. Aurora is epic, but personal and poignant, horrifying and darkly funny, and flat-out suspenseful."  — Linwood Barclay, New York Times bestselling author of Find You First
"With Aurora, David Koepp has firmly staked his ground as one of the best thriller writers working today. Come for the mind-blowing concept of a massive geomagnetic storm that wipes out nearly every power grid on Earth, stay for why this book truly soars—characters you'll love, breakneck-pacing, and the question we're all wrestling with in these wild, modern times: what happens when life slips out of our control?"  — Blake Crouch, New York Times bestselling author of Dark Matter and Recursion 
"David Koepp's Aurora contains two great narratives on a collision course. When, where and how they collide will you keep you turning pages right up to The End." — Brian De Palma
"There's a reason David Koepp is the most successful screenwriter of all time. It's because he's one of the greatest storytellers of all time. Aurora is up there with his best: scary, funny, and thought provoking. Buy it immediately."  — Scott Frank, writer and director of The Queen's Gambit
"Aurora is everything a great novel, and great thriller, should be. David Koepp's story is frightening, surprising, wildly entertaining, but also full of heart. I don't know of many writers who could keep that many plates spinning as deftly, or as successfully. Somehow Koepp does. Aurora is the work of one of our best storytellers, at the top of his game." — Mike Lupica, co-author of The Horsewoman with James Patterson, and Robert B. Parker's Revenge Tour
"David Koepp does it again! Mixing humor, terror, and an all-too-believable doomsday scenario, Aurora is at the top of my list this year."  — Christina Dalcher, author of Vox
"Engaging characters deal with disaster in this swiftly paced, well-written thriller… Koepp, a successful screenwriter (Jurassic Park, Spider-Man), brings those skills to this novel, crafting carefully placed revelations about the characters' relationships and the bursts of violence in their increasingly chaotic world into an exciting and satisfying tale." — Kirkus Reviews, starred review
"Chilling . . . Koepp's imaginative plotting will keep readers turning the pages to learn the fates of characters they readily become invested in. Michael Crichton fans will hope for more from Koepp." — Publishers Weekly, starred review
"Solidly anchored in real-world science…Plausible and chilling." —  Booklist
"This is a one-sitting read, tightly plotted and atmospheric, with characters you'll invest in as the world around them spins out of control." — The Guardian