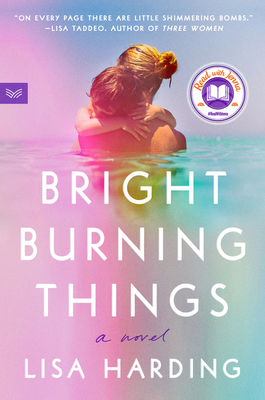 Bright Burning Things: A Read with Jenna Pick
Publication Date:
December 13th, 2022
Usually Ships in 1 to 5 Days
Wow, what a ride. Written from the warped perspective of an alcohol-addicted mother, this book was hard to put down. The writing is genuine and charming, the characters unique within their own individual skins. I absolutely loved it.
December 2021 Indie Next List
Description
A READ WITH JENNA BOOK CLUB PICK AS FEATURED ON TODAY * A PEOPLE MAGAZINE PICK * AN INDIE NEXT PICK * A LIBRARYREADS PICK *AN AMAZON EDITORS PICK
"On every page there are little shimmering bombs. Like Room, where parenthood is at once your jail and your salvation, it is almost claustrophobic—but in the most glorious way."—Lisa Taddeo, #1 New York Times bestselling author of Three Women and Animal
A rising international literary star makes her American debut with this visceral, tender, and brave portrait of addiction, recovery, and motherhood, as harrowing and intense as Shuggie Bain.
Sonya used to perform on stage. She used to attend glamorous parties, date handsome men, ride in fast cars. But somewhere along the way, the stage lights Sonya lived for dimmed for good. In their absence, came darkness—blackouts, empty cupboards, hazy nights she can't remember.
What keeps Sonya from losing herself completely is Tommy, her son. But her immense love for Tommy is in fierce conflict with her immense love of the bottle. Addiction amplifies her fear of losing her child; every maternal misstep compels her to drink. Tommy's precious life is in her shaky hands. 
Eventually Sonya is forced to make a choice. Give up drinking or lose Tommy—forever.
Bright Burning Things is an emotional tour-de-force—a devastating, nuanced, and ultimately hopeful look at an addict's journey towards rehabilitation and redemption.
A MOST ANTICIPATED BOOK FROM: Washington Post, The Millions, PopSugar, Shondaland, Good Morning America, Nylon, Good Housekeeping, Town & Country
Praise for Bright Burning Things: A Read with Jenna Pick
"I have never read a book that addresses mental health and alcoholism in as transparent and beautiful a way as 'Bright Burning Things'." — Jenna Bush Hagar
"An unforgettable portrait of human frailty and strength."  — People
"On every page, there are little shimmering bombs." — Lisa Taddeo, author of Three Women
"Quietly devastating . . . Reminded me repeatedly of Shuggie Bain." — The Observer (London)
"[A] wild ride, culminating in a final scene that combines hope, fear and beauty." — The Guardian
"Bright Burning Things is moving—humane and emotionally scrubbed raw....Both books [Shuggie Bain and Bright Burning Things] deal with addiction and the trauma that befalls the loved ones of addicts...Bright Burning Things, by contrast, offers both Sonya and the readers strands of hope." — Boston Globe
"[A] moving story of a mother battling addiction … Bright Burning Things joins Eleanor Oliphant Is Completely Fine and Shuggie Bain as a portrait of female wreckage." — The Times (UK)
"Absolutely dazzling. While the subject matter is dear to my heart, I'd have loved it even if I knew nothing about addiction. It's instantly engrossing. Sonya's emotional interiority is fascinating and compelling." — Marian Keyes

"In Irish writer Harding's blistering U.S. debut, a former London stage actress finds her life in Dublin derailed by disappointment and alcoholism....Harding brilliantly captures both the hilarity and wisdom of Sonya's 12-step program, with her time in rehab poignantly complicated by Sonya's separation from Tommy and her fear she might not be reunited with him....This unflinching portrait of a troubled, tender soul takes readers to the depths of the human heart." — Publishers Weekly (starred review)
"Rich with layered character dynamics and unexpected turns, Bright Burning Things is riveting."
— Shelf Awareness
"Through Harding's realistic writing, one feels the profound desperation and pain of addiction. Readers won't soon forget this viscerally raw immersion into addiction."
— Library Journal (starred review)
"Grappling with the gap between faith and hopelessness, Harding shines with a heroine whose dogged triumphs accumulate over the course of this fast-paced and intensely lucid novel." — The New York Times Book Review
"Harding's novel is, at its foundation, just the right story for this season: a woman who saves herself to give her son the ultimate gift of a healthy parent."  — Washington Post
"[Harding's] writing is taut, and there is such an intensity, an urgency about the narrative that you find yourself turning the pages as if you fear Sonya might race out of sight. Bright Burning Things is a contemporary, zeitgeisty read and very satisfying." — The Independent
"Lisa Harding is a vivid and original stylist and a gifted storyteller. This is a fabulous novel." — Kevin Barry, author of Night Boat to Tangier
"A moving novel about unconditional love, addiction, and dreams, Bright Burning Things will leave an undeniable mark on readers' hearts."  — Shondaland
"A probing character study with insightful perspectives on addiction and single parenthood." — Minneapolis Star Tribune
"Unputdownable: infuriating, nerve-wracking and hugely enjoyable."
— Roddy Doyle, author of Smile
"A tour-de-force." — Kirkus Reviews
"Gripping from start to finish, Bright Burning Things is a frank portrayal of flawed motherhood, substance abuse and generational trauma."  — PureWow