Preorder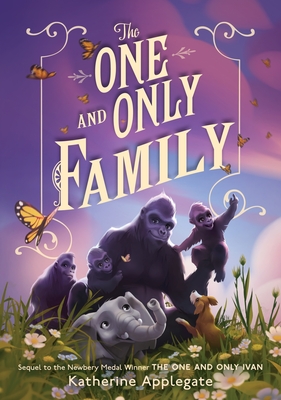 The One and Only Family
Publication Date:
May 7th, 2024
Description
For more than a decade, readers have been enchanted by the modern classic The One and Only Ivan, a Newbery Award winner and a #1 New York Times bestseller, and by its bestselling sequels, The One and Only Bob and The One and Only Ruby. Powerhouse author Katherine Applegate invites readers back into Ivan's world for one last adventure—his most exciting yet.
Ivan has been happily living in a wildlife sanctuary, with his friend Ruby next door in the elephant enclosure, frequent visits from his canine friend Bob, and his mate Kinyani by his side. And in the happiest turn of all, Ivan and Kinyani have welcomed a set of twins to their family!
Ivan loves being a papa, even though it can be hard sometimes. But as he navigates the joys and challenges of parenthood, he can't help but recall his life before the glass walls of the mall circus, his own childhood in the jungle—and his own twin.
In the tradition of timeless classics like Charlotte's Web and Stuart Little, the one and only Katherine Applegate has crafted a poignant, delightful, heartbreaking, unforgettable final foray into the world of Ivan, the world's favorite silverback.