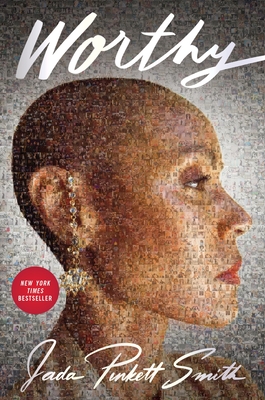 Worthy
Publication Date:
October 17th, 2023
Publisher:
Dey Street Books
Good Neighbor Bookstore
6 on hand, as of Dec 9 8:07am
On Our Shelves Now
Description
**Time magazine most anticipated books of 2023**
**Parade magazine must-read books by celebrities 2023**
"I went through so many emotions reading this book. Reconnecting to one's ancestors and truly feeling, not only hearing, their stories are fertile ground for true ecstatic embodiment of the self. We have to know where we've been to see where we're going." -Will Smith
"[Smith] is candid and honest... For the first time she reveals the truth behind [the] happy images. An incredible read." -Hoda Kotb, The Today Show
A gripping, at times painfully honest, and ultimately inspirational memoir from global superstar and creator of the Red Table Talk series Jada Pinkett Smith. 
Jada Pinkett Smith was living what many would view as a fairy-tale of Hollywood success. But appearances can be deceiving, and as she felt more and more separated from her sense of self, emotional turmoil took hold. Sparing no detail, Worthy chronicles her life—from a rebellious youth running the Baltimore streets as an observer and participant in the drug trade, to the deep bond she shared with Tupac Shakur from the moment they met, to her move to Los Angeles and the successful career she built on her own terms, to becoming the wife of superstar Will Smith and mother to Jaden, Willow and bonus-mom to Trey . A rollercoaster from the depths of suicidal depression to the heights of self-acceptance and spiritual healing, Worthy is a woman's journey to finding herself again. 
In a media driven landscape that crafts narratives for our celebrities, Smith shares herself in an intimate conversation with readers. She answers questions about her difficult childhood, her marriage, her parenting style, her career choices, and the intense scrutiny that followed "the slap." An impactful and rare memoir that engages and educates, Worthy shows why adhering to the status quo has never been the plan for Jada Pinkett Smith and why labels and stories crafted by others strip women of their authenticity. Worthy teaches us who Jada is, and how to embrace our most lovable qualities. Complete with thought-provoking writing prompts and meditations on how to discover who we really are and nourish our self-worth.
Praise for Worthy
"In Worthy, Jada shares her deeply moving journey to self-worth. With bravery and compassion, she reflects on her childhood, honors her heartbreaks, celebrates her triumphs, and makes peace with her shadows. By demonstrating the power in owning every piece of her story, Jada encourages every woman to do the same." — Sheryl Sandberg, Founder, LeanIn.org an OptionB.org
"Jada Pinkett Smith's Worthy is an invitation to a soul-nourishing journey. It's as if she's sitting right there with you, sharing her experiences, and inspiring you to step into your power. Worthy beautifully underscores self-discovery, introspection, and the pursuit of purpose." — Jay Shetty, New York Times bestselling author of 8 Rules of Love and Think Like a Monk
"Anyone who has seen an episode of Red Table Talk knows that she isn't afraid to speak her mind, which means readers should expect her to clear the air about a lot of things." — TIME, Most Anticipated Books of Fall 2023
"Really beautiful... Incredible." — Dax Shepherd, host of Armchair Expert
"Remarkable." — Kelly Ripa, co-host of Live with Kelly & Mark
"Worthy documents an eventful life... Threads of loyalty, protection, and safety wind their way throughout the memoir, and Pinkett Smith implores readers to learn from her hard-fought lessons." — New York Times
"From the drug-riddled streets of Baltimore to becoming an A-list superstar and one of Hollywood's top power couples with Will Smith, the actress and activist candidly unveils her life. From the depths of suicidal depression to the heights of self-acceptance and spiritual healing, this is a woman's journey to finding herself again." — Ebony
"In Worthy Jada Pinkett Smith contends with the way she's coped with life... and the choices she made to survive." — Tonya Mosely, Fresh Air, NPR
"Worthy reads like it was written with an eye toward the cinematic adaptation. [It] emphasizes that every part of a life is worth examining, worth living, worth honoring." — Washington Post
[Smith] has some things she wants to set straight." — Los Angeles Times