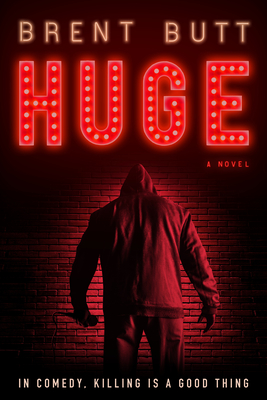 HUGE: A novel
Publication Date:
October 3rd, 2023
Publisher:
Doubleday Canada
Usually Ships in 1 to 5 Days
Description
AN INSTANT #1 NATIONAL BESTSELLER
The award-winning screenwriter and International Emmy nominee is now a literary success with this unexpectedly dark and twisted thriller.
It's 1994, and three stand-up comedians have embarked on a tour of  smaller communities across a remote stretch of rural countryside. Dale is a forty-something comic from Chicago who's on the back half of a mediocre career and thinking about quitting the business. Rynn is a twenty-something fast-rising comedy star from Dublin with a big Hollywood break on her horizon. The third performer is a local act, a late addition to the bill who has agreed to open the shows and do all the driving. He goes by the name Hobie Huge, and he is, indeed, enormous. His comedic ability, however, is not. He's weirdly eager, annoyingly enthusiastic and brutally unfunny. All of which wouldn't be so bad . . . if the brutality ended there. By the time Dale and Rynn realize Hobie's true talents and disturbing motivation, it may be too late—and their tour becomes less about getting laughs and more about getting off the road alive.
Praise for HUGE: A novel
AN INSTANT #1 NATIONAL BESTSELLER
"Fans of Corner Gas who pick up Butt's first novel may be in for a surprise. . . . Butt's knowledge of standup provides the granular detail, but his sense of pace and timing (both essential qualities for a comedian) are here well deployed in the service of much darker, nastier material. And the biggest surprise is how entertaining the whole thing is." —Toronto Star
"An incredibly propulsive read. . . . Huge is full of some great storytelling, sharp observances and authentic characters." —Winnipeg Free Press
"Butt kills with a darkly comic thriller that could only be written by someone who knows there are worse things than dying on stage." —Linwood Barclay, bestselling author of Take Your Breath Away and Find You First

"A clever tribute to the craft of comedy. And the eerie itches it's used to scratch." —Charles Demers, author of Primary Obsessions
 
"Full of ironic humour. But I still found myself scared. Like . . . Silence of the Lambs scared." —Rachel Talalay, director, Sherlock and Doctor Who

"Darkly funny . . . but with an awesomely terrifying arc. Kept me reading way later than I wanted to." —Meredith Hambrock author Other People's Secrets