Discounted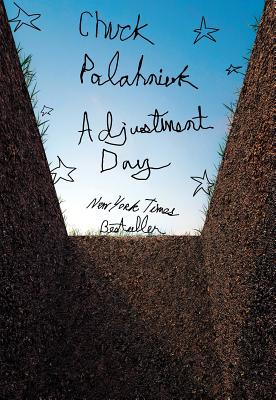 Adjustment Day: A Novel
Previous price:

$16.95
Current price:

$15.95
Publication Date:
May 7th, 2019
Publisher:
W. W. Norton & Company
Good Neighbor Bookstore
1 on hand, as of Sep 30 5:52am
(Literature)
On Our Shelves Now
Description
New York Times Bestseller
"An irreverent satirical fantasy about a sudden and violent upheaval.…Think Tom Robbins channeling Jonathan Swift." —David Takami, Seattle Times
Adjustment Day is an ingenious darkly comic work in which Chuck Palahniuk does what he does best: skewer the absurdities in our society. Geriatric politicians bring the nation to the brink of a third world war to control the burgeoning population of young males, while working-class men dream of burying the elites. Adjustment Day's arrival makes real the logical conclusion of every separatist fantasy, alternative fact, and conspiracy theory lurking in the American psyche.
Praise for Adjustment Day: A Novel
A quick, horrifying descent into madness and murder, gorgeous in its psychotic build-up and over-the-top execution.
— Jason Sheehan - NPR
A novel made out of the times we're living in.
— Graeme McMillan - Hollywood Reporter
Palahniuk toys with our cultural dividing lines.… The result is a novel that straddles both the horrific and the absurd, kind of like present-day America.
— Peter Rugh - Vice
A must-read.
— Gavin Sheehan - Bleeding Cool
A send-up of the many absurdities in our society.
— Mackenzie Dawson - New York Post
[Palahniuk] joins Sinclair Lewis and George Orwell in Dystopia.… There are traces of noir, magical realism, sf, and horror. It's all there, with the power to amuse, astound, and provoke.
— Library Journal
Palahniuk takes the United States' divided politics to an extreme conclusion and proves along the way that his gift for social satire has only sharpened with time.
— Shelf Awareness
Visionary and fearless… perhaps [Palahniuk's] darkest, most biting satire to date.… [R]azor-sharp insights and boundless imagination are matched only by his ability to make even the most stomach-churning scenes somehow vividly entertaining.… [E]qual parts Jonathan Swift and Tyler Durden.
— Booklist
A dystopian nightmare that takes all the fractures of our modern society and escalates them to a perverted climax.
— Kirkus Reviews