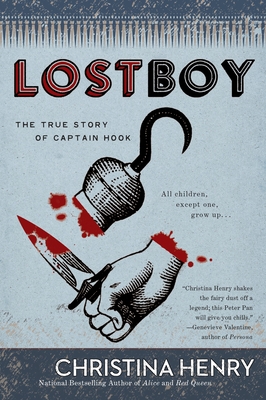 Lost Boy: The True Story of Captain Hook
Publication Date:
July 4th, 2017
Good Neighbor Bookstore
2 on hand, as of Nov 27 3:37pm
(Fi/Fantasy)
On Our Shelves Now
Description
From the national bestselling author of Alice comes a familiar story with a dark hook—a tale about Peter Pan and the friend who became his nemesis, a nemesis who may not be the blackhearted villain Peter says he is…
There is one version of my story that everyone knows. And then there is the truth. This is how it happened. How I went from being Peter Pan's first—and favorite—lost boy to his greatest enemy.
 
Peter brought me to his island because there were no rules and no grownups to make us mind. He brought boys from the Other Place to join in the fun, but Peter's idea of fun is sharper than a pirate's sword. Because it's never been all fun and games on the island. Our neighbors are pirates and monsters. Our toys are knife and stick and rock—the kinds of playthings that bite.
Peter promised we would all be young and happy forever. Peter lies.
Praise for Lost Boy: The True Story of Captain Hook
Praise for Lost Boy
"Christina Henry shakes the fairy dust off a legend; this Peter Pan will give you chills."—Genevieve Valentine, author of Persona
"A riveting rewrite of 'Peter Pan'...Never wanting to grow up, never wanting anyone else to grow up, doesn't look like such an innocent and charming ambition anymore."—Wall Street Journal
"Multiple twists keep the reader guessing, and the fluid writing is enthralling...Henry immerses the reader in Neverland and genuinely shocks...This is a fine addition to the shelves of any fan of children's classics and their modern subversions."—Publishers Weekly
"This wild, unrelenting tale, full to the brim with the freedom and violence of young boys who never want to grow up, will appeal to fans of dark fantasy." —Booklist
"Turns Neverland into a claustrophobic world where time is disturbingly nebulaous and identity is chillingly manipulated...a deeply impactful, imaginative and haunting story of loyalty, disillusionment and self-discovery."—RT Book Reviews
"Once again, Henry takes readers on an adventure of epic and horrific proportions...Her smooth prose and firm writing hooked me up instantly and held me hostage to the very end."—Smexy Books
"We all have a soft spot for the classics that we read when we were growing up. But…this retelling will poke and jab at that soft spot until you can never look at it the same way again."—Kirkus Book Reviews

"Lost Boy owes more to William Golding's Lord of the Flies than it does Barrie, as Henry examines the darker side to leaving a bunch of boys to fend for themselves… This audacious and gripping treatment of this well-known story is expertly told by Henry's emotive, evocative prose."—Starburst Magazine
"Lost Boy is a fantastic adventure story with a Lord of the Flies sensibility… Henry's writing is among the most substantive and touching in the fantasy genre."—I Smell Sheep
Praise for Alice
 
"Careful, this white rabbit will lead you on a psychotic journey through the bowels of magic and madness. I, for one, thoroughly enjoyed the ride."—Brom, author of The Child Thief
 
"I loved falling down the rabbit hole with this dark, gritty tale. A unique spin on a classic and one wild ride!"—Gena Showalter, New York Times bestselling author of A Mad Zombie Party
 
"A dark, delightfully disturbing fall down a rabbit hole of madness and mystery. This is not your mamma's Alice."—R. S. Belcher, author of Brotherhood of the Wheel
 
"A horrifying fantasy that will have you reexamining your love for this childhood favorite. Smooth, velvety prose blends well with the deliciously complex characters and intricate story line...A world that is nothing like Lewis Carroll ever imagined."—RT Book Reviews (top pick)
"Henry retains all the surreality of Carroll's tale but makes it even darker, leading readers down a scarier rabbit hole and into a city that's fantastical, scary and frankly more satisfying than Carroll's original...The writing is brisk, the story compulsive…A fun, chilling, exciting, magical read."—The Oklahoman