Discounted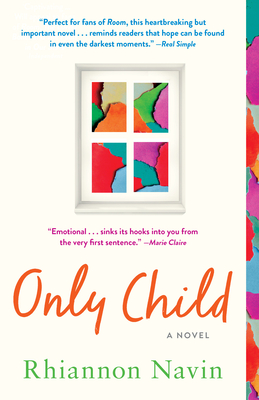 Only Child
Previous price:

$17.00
Current price:

$16.00
Publication Date:
February 5th, 2019
Good Neighbor Bookstore
2 on hand, as of Dec 9 8:07am
(Fiction)
On Our Shelves Now
Description
International Bestseller
"Emotional . . . sinks its hooks into you from the very first sentence." —Marie Claire
"Perfect for fans of Room, this heartbreaking but important novel . . . reminds readers that hope can be found in even the darkest moments." —Real Simple
First grader Zach Taylor is in his classroom when a gunman enters the school auditorium and the unthinkable happens, irrevocably changing the very fabric of this close-knit community. 
While Zach's mother pursues a quest for justice, and Zach's father retreats into his work, Zach finds solace in the healing world of books and art. Armed with his new insights, and the optimism and stubbornness only a child could have, Zach becomes determined to help the adults in his life rediscover the universal truths of love and compassion they need to pull them through their darkest hour.
A dazzling, tenderhearted debut about healing, family, and the exquisite wisdom of children, narrated by a six-year-old boy who reminds us that sometimes the littlest bodies hold the biggest hearts, and the quietest voices speak the loudest.
Praise for Only Child
"Only Child triumphs." —The Washington Post
"Only Child is told from the prospective of a six-year-old, but like Room and The Curious Incident of the Dog in the Night-Time, it contains wisdom for all ages." —People
 
"A novel with a child narrator you can't help but love." —Bustle
"Fans of Emma Donoghue's Room will adore the six-year-old narrator in Only Child, and the novel's take on a school shooting proves hauntingly relevant today." —Paste
 
"This hotly anticipated debut novel takes on topics both timely and tragically universal: school shootings, love, loss, forgiveness, and pain." —Glamour
 
"[This] powerful novel . . . earns its worth by avoiding gratuitous scenes of horror in favor of a careful examination of the way one boy and his parents, and their community, struggle to survive—and stay together—after the worst has happened." —USA Today
 
"Heartbreaking. . . . Zach's seemingly childish coping mechanisms show maturity beyond his years." —The Sun Chronicle
 
"Innocence trumps violence in Rhiannon Navin's Only Child." —Vanity Fair
 
"It's hard to imagine a more timely novel than Only Child. The book is a heartbreaking exploration of grief, family, and resilience in the face of immeasurable tragedy [and] a story that feels more fact than fiction." —Shondaland.com
 
"A powerful . . . tale of heartbreak and hope" —Brightly
 
"Captivating . . . will appeal to fans of Room, The Lovely Bones and The Fault in Our Stars." —The Independent (London)
 
"[A] gut-wrenching debut novel. . . . On a par with John Green's evocative writing." —School Library Journal (starred review)
 
"A tough, topical story . . . a strong book club choice." —Library Journal (starred review)
 
"Important and timely."—Booklist
 
"An astonishing debut novel." —Publishers Weekly 
Get to know debut novelist Rhiannon Navin

Q: This is your first novel. How long have you been writing?
Rhiannon Navin: Only Child was my first real foray into the world of writing. I have dabbled with writing here and there since I was in high school. An avid reader my whole life, authors are like rock stars to me. I always admired them from afar, but never seriously considered trying my hand at writing myself. I guess it took something that really rattled me to the core to open up the floodgates. It was like this story was already there, waiting for me. I don't know how else to explain it. I sat down one day and wrote down the opening scene of Zach hiding in his classroom closet in one sitting. The scene just flowed out of me. I scribbled furiously, in one of my kids' school notebooks, barely coming up for air. And just liked that I was hooked. 
Q: Only Child definitely celebrates the power of books. The Magic Tree House books are Zach's favorites. Why did you decide to include those books are part of the novel? And what were some of the books that you most loved as a child?
RN: The Magic Tree House books are some of my kids' favorite books. Mary Pope Osborne created a series that truly is magical and my kids loved discovering new worlds or different time periods with Jack and Annie. When I first started writing Only Child, I wasn't planning on including them. That is something that happened organically. As Zach began to retreat to his hideout and to find ways to cope with his feelings, books occurred to me as a natural outlet for him. Because books can be such a great escape sometimes. You dive into another world and get to sample someone else's life, and you (hopefully) emerge having learned something that you didn't know or haven't considered before. Growing up in Germany, I mostly read books by German authors such as Janosch, Paul Maar, and Judith Kerr. I devoured anything written by Astrid Lindgren. The Pippi Longstocking books are still some of my favorites.
 
 
Q: Tell us a little about the colors Zach uses to describe his feelings and how they inform the novel?

RN: I'm a very visual, creative person and to me, it's like Zach says: "the colors come attached to the feelings." I intuitively gravitated towards art and the use of paint and colors when I tried to imagine how Zach might try to navigate his confusing and lonely situation after the shooting. The scene where Zach begins to paint his "feelings pages" is a central scene in my story. It is the moment Zach begins to find ways, on his own, to confront the trauma he's experienced and deal with his conflicting and confusing emotions. Once Zach discovers that he can separate his feelings instead of having them "all mixed up," they seem more manageable to him, easier to tackle one by one. He is able to do something the adults cannot--understand that every feeling is important and valid.