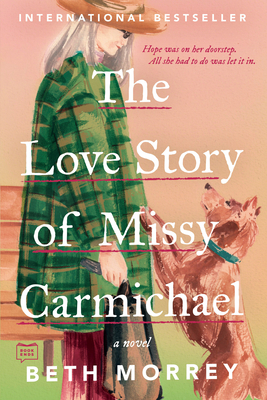 The Love Story of Missy Carmichael
Publication Date:
March 2nd, 2021
Publisher:
G.P. Putnam's Sons
Good Neighbor Bookstore
4 on hand, as of Sep 30 5:52am
(Fiction)
On Our Shelves Now
Description
For readers of Eleanor Oliphant Is Completely Fine and A Man Called Ove, a life-affirming, deeply moving "coming-of-old" story, a celebration of how ordinary days are made extraordinary through friendship, family, and the power of forgiving yourself--at any age.
"At a time when people are having to isolate, [this novel is] a balm, offering an expansive sense of love and possibility when the main characters feel like those chances are gone." --Christian Science Monitor
Missy Carmichael's life has become small.
Grieving for a family she has lost or lost touch with, she's haunted by the echoes of her footsteps in her empty home; the sound of the radio in the dark; the tick-tick-tick of the watching clock.
Spiky and defensive, Missy knows that her loneliness is all her own fault. She deserves no more than this; not after what she's done. But a chance encounter in the park with two very different women and one lovable dog opens the door to something new.
Another life beckons for Missy, if only she can be brave enough to grasp the opportunity. But seventy-nine is too late for a second chance. Isn't it?
Praise for The Love Story of Missy Carmichael
Winner of the Bronze Award for the NY Radio Awards
One of the Observer's 10 Best Debut Novelists of 2020
One of Read It Forward's Most Anticipated Books of 2020
One of Bustle's Most Anticipated Books of April 2020
One of Christian Science Monitor's Best Books of April 2020
 
"The success of Eleanor Oliphant Is Completely Fine has blazed a trail for books about offbeat characters, and this is one of the best I've read…A joyful read about the power of people in saving each other." –Good Housekeeping
 
"A charming story about the way that connecting with others can heal a broken spirit…Fans of Fredrik Backman and Rachel Joyce will enjoy this uplifting (but never saccharine) "coming of old" story." —Library Journal (starred review)
 
"Morrey has deftly created a series of love stories, interwoven together and told in snippets through time…Pain, grief, and hurt are all part of life in this moving portrayal of the many forms love can take." —Kirkus Reviews (starred review)
 
"Heartwarming, poignant and raw, The Love Story of Missy Carmichael is the perfect book for anyone ready for a change, for hope, or for a solid love story rooted in something more." —BookReporter.com
 
"A generous-hearted story showing the transformative power of friendship and community, whatever our time of life. Morrey writes about loneliness and old age with a wonderful lightness of touch…A fabulously enjoyable book!" —Sarah Haywood, author of The Cactus
 
"Here is a love story of the most important kind: that of coming to love oneself through accepting and returning the love of others—be it people or dogs. I truly enjoyed reading this story of a big-hearted but embittered woman who turns her life around, two steps forward and one step back, which is to say realistically. . . . An elegant reminder that the rest of us are capable of doing the same thing. It is not only pleasurable but inspiring reading." —Elizabeth Berg, author of Night of Miracles
 
"The particular success of this book lies in its shrewdly unsentimental celebration of kindness, community and mutually-supportive women. …[It's] is a breath of fresh air and already I want to read the next one!" —Felicity Hayes-McCoy, author of The Library at the Edge of the World