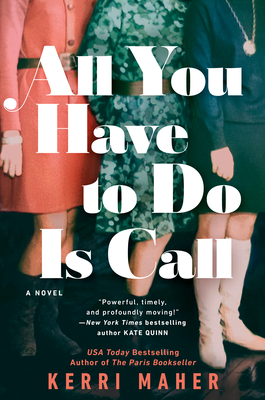 All You Have to Do Is Call
Publication Date:
September 19th, 2023
Good Neighbor Bookstore
1 on hand, as of Dec 9 8:07am
(Fiction)
On Our Shelves Now
Description
"[A] powerful, thought-provoking novel… not only important and timely, but deeply humanizing." —Good Morning America
"Remarkable." —The Washington Post
"Powerful. Dramatic. Insightful…. It's not only a timely novel, but storytelling at its finest – a must-read." —NPR
An NPR Books We Love selection for 2023
A gripping and uplifting novel based on the true story of the Jane Collective and the brave women who worked in the shadows for our right to choose, from the USA Today bestselling author of The Paris Bookseller.
 
Chicago, early 1970s. Who does a woman call when she needs help? Jane.
 
The best-known secret in the city, Jane is an underground health clinic composed entirely of women helping women, empowering them to embrace their futures by offering reproductive counseling and safe, illegal abortions. Veronica, Jane's founder, prides herself on the services she has provided to thousands of women, yet the price of others' freedom is that she leads a double life. When she's not at Jane, Veronica plays the role of a conventional housewife—a juggling act that becomes even more difficult during her own high-risk pregnancy.
 
Two more women in Veronica's neighborhood are grappling with similar disconnects. Margaret, a young professor at the University of Chicago, secretly volunteers at Jane as she falls in love with a man whose attitude toward his ex-wife increasingly disturbs her. Patty, who's long been content as a devoted wife and mother, has begun to sense that something essential is missing from her life. When her runaway younger sister, Eliza, shows up unexpectedly, Patty must come to terms with what it really means to love and support a sister.
 
In this historic moment, when the personal was nothing if not political, Veronica, Margaret, and Patty risk it all to help mothers, daughters, sisters, and friends. With an awe-inspiring story and appealing characters, All You Have to Do Is Call celebrates the power of women coming together in the face of seemingly insurmountable odds.


Praise for All You Have to Do Is Call
"[A] powerful, thought-provoking novel… not only important and timely, but deeply humanizing." 
—Good Morning America
"Powerful. Dramatic. Insightful. Maher writes vividly and compassionately about the complexities and courage of her three main characters as they face a turbulent time. It's not only a timely novel, but storytelling at its finest – a must-read."
—NPR
"A remarkable rendering of women's interior lives as they try to balance motherhood, careers and relationships with the need to maintain control of their health care, even if it risks arrest."
—The Washington Post
"Maher sketches all three women with compassion and sensitivity as they come to rely on each other in the absence of the law, and their journey is profoundly moving. A novel both powerful and timely!"
—Kate Quinn, New York Times bestselling author of The Diamond Eye
"A captivating tale of women sacrificing everything in order to support other women."
—Dolen Perkins-Valdez, New York Times bestselling author of Take My Hand
"All You Have to Do is Call is about the power of women working together, their friendships, their loves, their lives and how, when united, they really can change the world even in the face of seemingly insurmountable barriers. Inspiring, important but also page-turning, Kerri Maher pulls off a remarkable feat in this novel."
—Natasha Lester, New York Times bestselling author of The Paris Orphan
"Dramatic and emotional!"
—Woman's World
"Maher not only packs a punch but also gives us all the feels in this inspiring, powerhouse novel—exposing the profound choices women made and the risks they took to help other women."
—Lisa Barr, New York Times bestselling author of Woman on Fire
"Kerri Maher's masterful research and powerful writing sheds light on the intrepid women who put everything on the line for their efforts with the Jane Collective. All You Have to Do is Call is inspiring and timely and an absolute must read."
—Madeline Martin, New York Times bestselling author of The Librarian Spy
"Succeeds at shining a spotlight on the women who fought for the right to choose. Published a little over a year after Roe v. Wade was overturned, it's a poignant and timely look at the highs and lows on the path to bodily autonomy."
—PureWow
"This powerful story… shows the solidarity and bravery of Jane members in the face of great risk, the immense changes which took place during those troubled times, and the impact of "women's lib" and Roe V. Wade. An eye-opening, informative book that's well worth reading."
—Booklist (starred review)
"With beautiful writing and a brisk pace, this is Maher's best book to date!"
—Heather Webb, USA Today bestselling author of Strangers in the Night
"A work of historical fiction has never been as timely or relevant as Kerri Maher's All You Have to Do is Call. Her meticulous research brings 1970s Chicago to life and reminds us of how far we've come and what's at stake for us now." 
—Renée Rosen, USA Today bestselling author of Fifth Avenue Glamour Girl
"A stunning, propulsive novel of friendship and courage... Told with compassion and a chorus of compelling voices, this novel will keep you turning the pages late into the night."
—Laurie Lico Albanese, author of Hester
"Brilliantly woven together, All You Have to Do to Call is an inspiring opus of courage, sisterhood, friendship and the incredible things women can do when they work together to make change."
—Eliza Knight, USA Today bestselling author of Starring Adele Astaire
"Maher evocatively explores what remains a timely topic in American history, showing the strength that women wield in helping each other achieve bodily autonomy."
—Publishers Weekly
"A character-rich story of risky, remarkable activism that resonates more strongly than ever."
—Kirkus
"The characters are rich and keenly developed, the pacing flawless. A worthy reminder of the progress we've made and the progress we stand to lose. A stunning tribute to the strength of women."
—Aimie K. Runyan, bestselling author of The School for German Brides and A Bakery in Paris
"An important, illuminating story about the dreams, fears, and needs of a group of women grappling with what choice really means in the pre-Roe v. Wade era. Maher provides an intimate view into the complexity of female relationships with each other, with their partners, and with their own bodies."
—Elise Hooper, author of Angels of the Pacific
"Maher's immersive prose made me feel like I was a member of Veronica and Patty's friend group, walking with them in the neighborhoods of early 1970s Chicago with the crisp autumn wind blowing in my face. This novel comes at the right time to remind us of the power we have on the individual level to make change, sometimes with our own bare hands."
—Kaia Alderson, author of Sisters in Arms
"This tautly-written novel will keep you turning the pages with its deeply satisfying portrayal of women negotiating the shoals of friendship and family in 1970s Chicago."
—Janie Chang, bestselling author of Dragon Springs Road, The Library of Legends, and The Porcelain Moon
"Powerful and timely… Maher weaves an absorbing tale of friendship, sisterhood and courage, and illuminates the incredible things that women can accomplish when they band together for a greater good."
—Jane Healey, bestselling Author of Goodnight From Paris
"Historical fiction at its finest: a riveting story from the past with all the immediacy and urgency of today. It's a powerful reminder that in challenging times, the most ordinary among us can step up to do the extraordinary."
—Greer Macallister, author of The Arctic Fury
"The novel to life these courageous women, their complicated relationships, and their efforts with seamless grace, realism, and humor. A bold celebration of female friendship and resilience, All You Have To Do Is Call is immersive, irresistible, and captivating from page one!"
—Weina Dai Randel, author of The Last Rose of Shanghai and Night Angels
"It's a testament to Kerri Maher's power as an author that she has turned a difficult subject into a compelling page-turner. In doing so, she shines a spotlight on the continuing struggle by women to be mistresses over their own lives."
—Alix Rickloff, author of The Girls in Navy Blue
"A brave tour de force that captures the tension and drama of a pivotal moment in women's history. Maher's novel is a powerful and inspiring tribute, a story of sisterhood, resilience, and courage that will stay with readers long after they finish the book. I loved it."
—Rachel Barenbaum, author of Atomic Anna