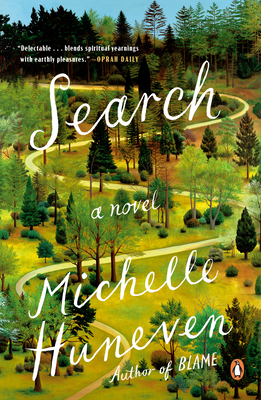 Search: A Novel
Publication Date:
April 25th, 2023
Good Neighbor Bookstore
2 on hand, as of Dec 9 8:07am
(Fiction)
On Our Shelves Now
Description
From critically acclaimed, award-winning author Michelle Huneven, a sharp and funny novel of a congregational search committee, told as a memoir with recipes
Dana Potowski is a restaurant critic and food writer and a longtime member of a progressive Unitarian Universalist congregation in Southern California. Under pressure to find her next book idea, she's asked to join the church search committee for a new minister and agrees, resolving to secretly pen a memoir, with recipes, about the experience. That memoir, Search, follows the travails of the committee and their candidates—and becomes its own media sensation.
Dana had good material to work with: the committee is a wide-ranging mix of Unitarian Universalist congregants, and their candidates range from a baker and microbrew master/pastor to a reverend who identifies as both a witch and an environmental warrior. Although she may have been ambivalent about joining the committee, Dana finds that she cares deeply about the fate of this institution and she will fight the entire committee, if necessary, to win the day for her side. This wry and wise tale will speak to anyone who has ever gone searching.
Praise for Search: A Novel
"Michelle Huneven's Search . . . made me a believer . . . like Marilynne Robinson with a light vinaigrette . . . refreshingly candid and transparent . . . [W]e have relatively few novelists willing to write about the role of religion in contemporary life—and even fewer who address spiritual practices with humor, empathy and lived wisdom. Huneven is one of those rare spirits. Religion doesn't bore or frighten her. She knows what a rich and fraught sanctuary the sanctuary can be." —Ron Charles, The Washington Post
"A wicked pleasure . . . Huneven is a wise storyteller . . . this novel has plot, character, structure and a delicious, deeply human pettiness that I think most honest readers will relate to . . . [Huneven's] descriptions of food are the best I've ever read." —Mary Beth Keane, New York Times Book Review
"Huneven's comic novel is a delicious, recipe-laden, must-read . . . hilarious." —Maureen Corrigan, NPR
 
"Religious folks of all denominations should find something to make them nod knowingly, laugh out loud and cringe in this telling novel—summer reading at its finest." —Amy Pagliarella, The Presbyterian Outlook
"Whoever said that university politics are vicious because the stakes are so low probably never served on a ministerial search committee . . . Delightful . . . wry and thoughtful . . . Huneven has total command of her material . . . Huneven is such a smart and funny writer." —Ann Levin, Associated Press
"Enthralling . . . The strengths of Huneven's novel lie in her deep understanding of human nature . . . It's fascinating to watch how skillfully Huneven moves committee members from one side to the other, and to watch, appalled, as the inevitable slowly happens. Those scenes are a master class in group dynamics . . . Search is a fun read. While the book is laced with plenty of humor (which Dana herself does not always see), it is laced, too, with plenty of wisdom. We can search, Huneven is saying, but you just never know what you might find." —Laurie Hertzel, Minneapolis Star Tribune
"Sassy and savvy . . . a surprisingly amusing account of ecclesiastical politics in the age of 'wokeness' . . . as mouthwatering an experience as reading Martin Walker's Bruno . . . spiced with wit . . . it is not quite a satire, since Huneven has too much respect for all her seekers." —Dan Cryer, Los Angeles Times
"A treat to return to every evening: thoughtful, calming, funny."—Edan Lepucki, The Millions
"Readers with congregational experience will find in it the universal feelings of frustration and humor . . . This combination of passions highlights the committee's dual yearning for spiritual and earthly sustenance." —Rabbi Benjamin Altshuler, CCAR Journal: The Reform Jewish Quarterly
"Offers hope, comfort, and a comic reality check for those of us who continue to throw our lot in with this wacky, disorganized, earnest experiment we call church . . . full of intrigue, drama, and absurdity . . . often laugh-out-loud funny, the story is also heartbreaking . . . Search does not hold back from the sloppy and sinful moments that so often happen in our church communities, but it holds on to what lies at the core of congregational life for so many of us: fellowship, a longing for holy mystery, and working toward a better world. Sometimes this leads to hypocrisy, hubris, and disaster. But more often, the search is in fact sincere, hilarious, and full of grace." —Heidi Haverkamp, Christian Century 
"James Beard and Whiting Award winner Huneven gleefully digs into the sausagemaking of a New-Agey church committee trying to reach consensus. . . . Huneven sparkles, with chop-licking descriptions of their potluck delectables, and she includes a baker's dozen recipes as appendices . . . But there's also a profoundly spiritual dimen­sion to Search. It raises difficult questions about living one's beliefs in a faith-based community and doesn't flinch when principles and practice come into conflict. Like a challenging sermon or a great restaurant's tasting menu, Search leaves the reader hungry for more." —Thane Tierney, BookPage
"The committee's machinations are engaging, as are the group's internecine struggles . . . Huneven injects humor and tension." —Publishers Weekly
"Readers will find Dana's takes on committee microdramas, factions, and vagaries of church and friendship relatable. Food lovers will enjoy Dana's restaurant visits and detailed food descriptions. The book's finale is a collection of AUUC members' signature recipes, a pleasing finish to this fresh work by award-winning novelist and food journalist Huneven." —Booklist
"Huneven shows her range with a folksy, funny fifth novel on the unlikely subject of how bad decisions happen to good committees . . . engaging and thought-provoking. The voting, the vetting, the drama, the discord, the anti-oppression training—it's all here . . . tender, salty, and worthy of note." —Kirkus
"Michelle Huneven writes with the clarity of both warmth and wit. She knows, and cherishes, the absurdity of the human spirit. And there are recipes!" —Cathleen Schine, New York Times bestselling author of The Three Weissmanns of Westport
"The committee at the heart of Huneven's wonderful Search is a portrait of a community working toward that most elusive of goals—a unanimous decision. The alliances and betrayals along the way reveal that even when a group of people share a common passion, the path to consensus can be tortuous. Fortunately, in Huneven's masterful prose it is also insightful, revealing, and very funny." —Jessica Francis Kane, author of Rules for Visiting
  
"In Search, Michelle Huneven invents the novel-with-recipes and takes on the eternal committee. With wry humor and keen moral nerve, she brings us deep into a group formed not by affinity but with a purpose—to select a new leader. We follow the hilarious, absorbing, shocking step by step of how and why intelligent, good-minded people make an entirely surprising decision. With echoes of voices as disparate as those of Thomas McGuane and Barbara Pym, Huneven is an American original, attentive to the outscale beauties of the west and the fragility of its citizens and institutions." —Mona Simpson, author of Casebook
"It's rare to find a writer as gimlet-eyed and big-hearted as Michelle Huneven, whose gorgeous novels display an unsentimental compassion that sits in delicious counterpoint to their gentle insistence on the truth.  The wondrous Search tells the story of a group of people whose task is to unify around an important decision, and if that sounds possible, rest assured that this droll novel will demonstrate in hilarious and painful detail all the ways in which our best intentions run afoul of how powerfully we want what we want. It's a marvelous novel and it has recipes: in other words, it's irresistible." —Ann Packer, New York Times bestselling author of The Children's Crusade
"I've loved every book Michelle Huneven has written and Search is the best—the most delectable—yet." —Ruth Reichl, author of Save Me the Plums
"Michelle Huneven's Search is immersive, inviting, occasionally wry, and often warm. It's a front row seat to a juicy in-fight that's all too familiar to anyone who's ever tried to get something done by committee. Huneven generously portrays the emotional questing that brings people into spiritual communities while also chronicling the rivalry, pettiness, and basic human failings that manifest in those communities. The narrator of Search reflects that ministry—especially for the secular—is about asking, 'How do we live in this world?', and this novel suggests many possible answers, as it touches on friendships, food, charisma, gossip, the notion of home, and the challenge of making all those things meaningful." —Sanjena Sathian, author of Gold Diggers