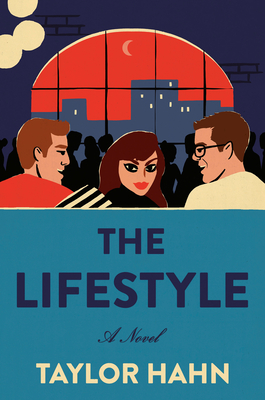 The Lifestyle: A Novel
Publication Date:
June 7th, 2022
Good Neighbor Bookstore
1 on hand, as of Dec 9 8:07am
(Romance)
On Our Shelves Now
Description
A heartwarming and hilarious novel about swinging, marriage, and complexities of the heart.
"This book is fun as hell. Hilarious, addictive, moving, and sexy. I lost track of time reading it, and I couldn't get enough!" —Jasmine Guillory, bestselling author of While We Were Dating
Georgina Wagman has it all—a great marriage, a great job at a prestigious law firm, and great friends. She's living the life she always wanted, and everything is perfect. Until, that is, she walks in on her husband Nathan in a compromising position with a junior associate. Georgina has a moment of crisis. But divorce is not a part of the five-year plan, so she comes up with an idea to save her marriage and recapture the spark. She and Nathan are going to become swingers.
Georgina isn't going to embark on this adventure alone, though. Her friends Felix and Norah and their respective partners decide to tag along for the ride. They've got relationship woes of their own that swinging just might fix. Georgina, convinced Felix and Norah belong together, is thrilled. What better place to reignite romance between two people destined to be together than a swingers' party? Her plan is foolproof, until she runs into a college ex at the first party. When they reconnect, Georgina will find herself torn between her head and her heart, with her very happiness hanging in the balance. Perfect for fans of Jennifer Weiner and Sophie Kinsella, The Lifestyle is a playful homage to Jane Austen's Emma Woodhouse and an outrageously fun summer read.
Praise for The Lifestyle: A Novel
A New York Post MUST-READ BOOK OF THE SUMMER!
"There's nothing quite like a breezy, but smart beach read to herald in the beginning of the summer season. Thankfully Taylor Hahn's The Lifestyle is just the book to do so."
—Thrillist
"A seductive rom-com focusing on not one but three relationships while also tackling career, motherhood, sex, and power dynamics."
—Apartment Therapy
"Hahn's zany, high-energy debut recasts Jane Austen's meddlesome heroine Emma as a 30-something New York City lawyer, and her plan for solving everyone's relationship issues is a foray into the swinger scene. . . . [Georgina's] well-meaning but overinvolved tone is hilariously on-point. The swinger scene is depicted with playfulness and heart. . . . Hahn's plot stands well enough on its own for those unfamiliar with Emma to enjoy, and readers who love contemporary resettings of the classics will be especially tickled."
—Publishers Weekly

"A fun, fizzy, partner-swapping spin on Jane Austen's Emma, exploring friendship, true love, the roads not taken ... and the ones you never thought you would. An ideal poolside read."
—Heather Cocks & Jessica Morgan, bestselling authors of The Heir Affair.
"An honest, open-hearted look at marriage and friendship and a reminder that, sometimes, the messiest parts of life are leading us where we're truly meant to be. This Emma retelling with a twist is a spectacular debut by a bold new voice."
—Kristy Woodson Harvey, New York Times Bestselling author of The Wedding Veil
"Hahn's writing is lively, quick-witted, and sharp, and The Lifestyle piqued my curiosity from its first pages—what a fun and vibrant read!"
—Claire Lombardo, bestselling author of The Most Fun We Ever Had
"Sexy and insightful, THE LIFESTYLE is both a playful and intimate exploration of marriage, commitment, so-called perfection and getting the happily ever after you never anticipated."
—Allison Winn Scotch, bestselling author of Cleo McDougal Regrets Nothing
"The Lifestyle is funny and sexy, a masterful exploration of marriage and friendship, ambition and swingers, and a frantic search for happiness that leads to the most unexpected places. Taylor Hahn's debut is addictive and smart—a romantic comedy with a twist!—and I couldn't put it down."
—Jennifer Close, bestselling author of Girls in White Dresses
 
"The Lifestyle is so vibrant and alive. A punchy, entertaining, and heartwarming look at the unexpected directions relationships take."
—Chelsea Bieker, author of Godshot
 
"This hilarious, wildly sexy book was impossible to put down. Hahn has created a memorable heroine, a strong woman trying to navigate life on her terms—until she finally realizes the key to getting what she really wants is letting go."
—Nicola Kraus, #1 bestselling coauthor of The Nanny Diaries
 
"The Lifestyle is razor-sharp, sexy, and downright hilarious."
—Crystal Hana Kim, author of If You Leave Me
"A spicy tale . . . may please fans of Christina Lauren and Emily Henry."
—Booklist