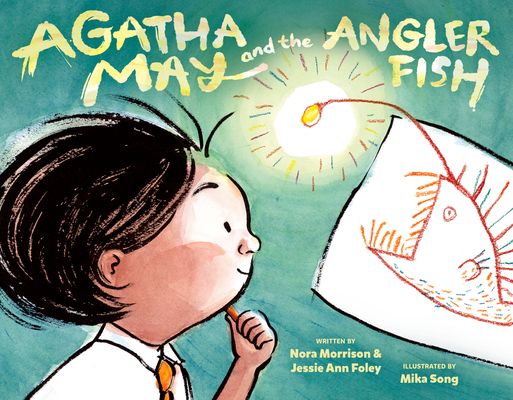 Agatha May and the Anglerfish
Publication Date:
December 13th, 2022
Usually Ships in 1 to 5 Days
Description
A funny, fish-filled story about the joys of learning, and the rewards that come with staying true to who you are
Agatha May just can't understand why her classmates aren't as crazy as she is about the hideous humpback anglerfish. But when a school assignment gives Agatha the chance to show everybody what they're missing, she single-handedly schools them all--and, in the process, discovers a passion for research and an exciting new dream for her future.
This book is perfect for dreamers, outside-the-box thinkers, and anyone who has ever felt like their special interest wasn't appreciated.
Praise for Agatha May and the Anglerfish
★ "This book is a gem in so many ways…The rhyme is engaging, the art is beautifully rendered, and the story is one that plays out in schools every day…This is a perfect fit for libraries, and a must buy for elementary schools. It is a lively read aloud and captures life in a classroom in a fun way." –School Library Journal, starred review
★ "A buoyant depiction of a memorable, and possibly life-changing, classroom moment." –Booklist, starred review
"Clever wordplay and significant bounce give this title a true leg up… the book is replete with factual information about anglerfish, even spilling over into additional details and definitions at the end. The satisfaction of seeing Agatha May rewarded for her fixation is rivaled only by Song's marvelous watercolor embodiment of Agatha May's untidy, obsessive self…A paean to the up-and-coming chaotic, incipient scientists of the world." –Kirkus
"Song captures the classroom's energy with charged jet-black ink lines, gentle washes, and energetic crayon textures. Foley and her sister Morrison, diver for an aquarium's curation department, wield smartly scanning verse for this story of triumph about a kid who shines when she can work independently." –Publishers Weekly
"The lively rhyming text, packed with information about the deep sea and anglerfish in particular, will be enthusiastically received in a science-or ocean-themed story time, and marine biology enthusiasts will want to revisit it for the scientific vocabulary and fascinating facts … Neurodivergent kids—or anyone labeled "weird"—will find a reassuring message that their interests will give them a time to shine." –BCCB
Booklist Editors' Choice 2022