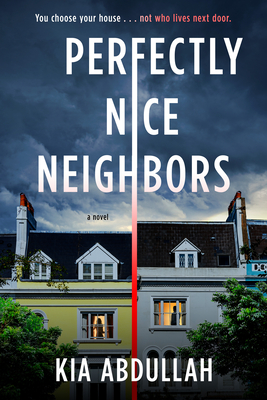 Perfectly Nice Neighbors
Publication Date:
September 12th, 2023
Publisher:
G.P. Putnam's Sons
Good Neighbor Bookstore
3 on hand, as of Dec 9 8:07am
(Mystery/Thriller)
On Our Shelves Now
Description
"One of my ten best reads of the year. Easy five stars." — Lisa Jewell, New York Times bestselling author of None of This is True
A twisty and consuming thriller, Perfectly Nice Neighbors asks: When your dream home comes with nightmare neighbors, how far will you go to keep your family safe?
    Salma Khatun is hopeful about Blenheim, the suburban development into which she, her husband, and their son have just moved. The Bangladeshi family needs a fresh start, and Blenheim feels like just the place.
    Soon after they move in, Salma spots her White neighbor, Tom Hutton, ripping out the anti-racist banner her son put in the front garden. Avoiding confrontation, Salma takes the banner inside and puts it in her window. But the next morning, she wakes up to find her window smeared with paint.
    When she does speak to Tom, battle lines are drawn between the two families. As racial and social tensions escalate and the stakes rise, it's clear that a reckoning is coming . . .
    And someone is going to get hurt.
Praise for Perfectly Nice Neighbors
Featured on the New York Times Book Review's Paperback Row
A September LibraryReads Pick
One of Country Living's 28 Best Fall Books to Put at the Top of Your Reading List
A Betches Best Book Of 2023 To Read If Your New Year Resolution Is Avoiding People
One of Bookish's Page-Turning Mysteries and Thrillers That Will Keep You Up All Night
Featured on Book Riot's Read or Dead Podcast
"This twisty page-turner promises a jaw-dropping ending."—Country Living
"A small act of malice between suburban neighbours snowballs, bringing tension and terror. Terrific and hugely thought-provoking."—Sir Ian Rankin, author of the John Rebus series
"Intelligent, clever, poignant, sharp, and thought-provoking, right through to the perfect final line."—Andrea Mara, author of All Her Fault
"A rollercoaster ride of a toxic tale of neighbors from hell. Brilliantly pacey and wonderfully written with a lovely big twist. Highly recommended."—Neil Lancaster, author of Dead Man's Grave
"[A] fiery domestic thriller…Abdullah provides a devastating glimpse into how people who believe themselves reasonable can be triggered to commit shocking acts."—Shelf Awareness
"[A] commentary on keeping up appearances, rampant—and subtly disguised—racism, and one woman's determination to keep her family safe at any cost. The writer proves exceptionally skilled at creating tension in every scene with an ominous feeling just around the next page turn."—Scary Mommy
"Regardless of what you think you're getting into with a thriller by Kia Abdullah, it will be way more in-depth, nuanced, and more importantly, shift the ground out from underneath the reader at least once..."—Book Riot
"A stunning, thought-provoking, and morally challenging read. It had me guessing until the ingenious reveal—a world-class story."—Graham Bartlett, author of Bad For Good
"Gritty…One cannot remain passive in the face of this novel, and the ending lets no one off the hook."—Kirkus Reviews
"Readers will have a tough time letting go of this one."—Publishers Weekly
"[A] perfectly structured book, with a lean cast and a fast pace…The book climaxes with a nice twist, but the ending is downright chilling."—Chick Lit Central
"An unfortunately timely story.... Perfectly Nice Neighbors is a thriller that feels both uncomfortable and uncomfortably necessary."—Paste Magazine
"Brilliant and emotional...I never saw the twists coming...and the journal of the protagonist was as compelling as anything I've read in the last several years; they book is definitely worth a read if you're interested in issues of race or in the quiet ways we undermine one another when faced with our differences."—Manhattan Book Review
"A riveting and timely thriller.... [W]ill leave readers guessing right up to the very last page."—Criminal Element
"Kia Abdullah takes current topics and writes twisty, layered thrillers around them."—Book Riot