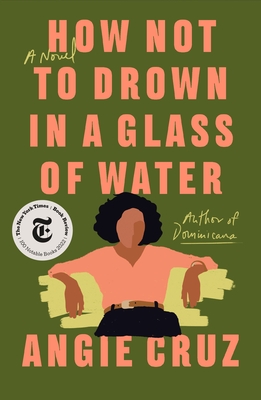 How Not to Drown in a Glass of Water: A Novel
Publication Date:
September 5th, 2023
Publisher:
Flatiron Books
Good Neighbor Bookstore
3 on hand, as of Dec 9 8:07am
(Fiction)
On Our Shelves Now
Description
A NEW YORK TIMES EDITOR'S CHOICE · A NEW YORK TIMES BOOK REVIEW NOTABLE BOOK · REVIEWED ON THE FRONT COVER
From GMA BOOK CLUB PICK and WOMEN'S PRIZE FINALIST Angie Cruz, author of Dominicana, an electrifying new novel about a woman who has lost everything but the chance to finally tell her story
"Will have you LAUGHING line after line...Cruz AIMS FOR THE HEART, and fires." —Los Angeles Times

"An endearing portrait of a FIERCE, FUNNY woman." —The Washington Post
Cara Romero thought she would work at the factory of little lamps for the rest of her life. But when, in her mid-50s, she loses her job in the Great Recession, she is forced back into the job market for the first time in decades. Set up with a job counselor, Cara instead begins to narrate the story of her life. Over the course of twelve sessions, Cara recounts her tempestuous love affairs, her alternately biting and loving relationships with her neighbor Lulu and her sister Angela, her struggles with debt, gentrification and loss, and, eventually, what really happened between her and her estranged son, Fernando. As Cara confronts her darkest secrets and regrets, we see a woman buffeted by life but still full of fight.
Structurally inventive and emotionally kaleidoscopic, How Not to Drown in a Glass of Water is Angie Cruz's most ambitious and moving novel yet, and Cara is a heroine for the ages.
Praise for How Not to Drown in a Glass of Water: A Novel
A New York Times Book Review Notable Book · Reviewed on the Front Cover
A New York Times Editor's Choice
A Best Book of the Year (The New York Times, The Washington Post, BookRiot, Amazon)
A Latino Book Awards Gold Medal Winner
Finalist for the Aspen Words Literary Prize
Finalist for the Neustadt International Prize for Literature
Longlisted for the Joyce Carol Oates Prize
A Goodreads Choice Award for Fiction Nominee
A Most Anticipated Book (The New York Times, The Washington Post, Good Morning America, The TODAY Show, Real Simple, Oprah Daily, BookRiot, Bustle, The Millions, PopSugar, AV Club, LitHub, Ms. Magazine, AARP, Kirkus Reviews, Katie Couric Media, Brit + Co)
"Taut and poignant…Luckily for us, Cara is an oversharer…drawing us in with her magnetic storytelling and breezy self-confidence…In projecting Cara's voice, Cruz prioritizes the importance of seeing an individual's humanity even within the most impersonal of systems…Like the novel itself, Cara resists classification. More than a job, or a cure, she requires a patient audience with whom she can share her most intimate secrets."
—The New York Times Book Review (cover review)
"How Not to Drown in a Glass of Water will have you laughing line after line, even when you wonder if you should be. (The answer is always yes!) By the time her sessions are up, though, you'll feel like many of those who know Ms. Romero; that her incessant chatter has become as life-sustaining as the substance she can't stop drinking…Cruz never misses. Her new novel aims for the heart, and fires."
—Los Angeles Times
"An ode to human connection...The story, told in Cara's unfailingly frank, sometimes hilarious, voice, quickly expands like the bellows of an accordion…Cruz once again offers a fresh glimpse of immigration, womanhood, aspiration and gentrification…Cara is a character to love…How Not to Drown in a Glass of Water delivers a sense of the enduring worth of relationships, life experiences and determination as currencies in a difficult world."
—The Washington Post

"[I] fell head-over-heels with the protagonist…Cara is warm, resilient, revealing and unintentionally funny. Remarkably, over the course of the novel, she arrives at believable self-realization, understanding that she is not a saint and accepting the role she has played in some of her misfortunes. By the book's end, I wanted to sit at Cara's kitchen table and eat her famous pastillas (made without raisins because she hates them)."
—San Francisco Chronicle
"What a joy to immerse myself in this elegantly compact, impactful, and vibrant novel…Cruz engages with weighty issues of gentrification, poverty, globalization and its displacements, discrimination, bureaucratic cluelessness to the rich interior life of its petitioners with a touch so light, and a voice so pitch-perfect that the issues leave the world of abstraction and become palpable, penetrating, and deeply felt."
—Julia Alvarez, LitHub
"This isn't just the best of the year for me but one of the best of my life reads, too…This is one of those rare books that finds a way to be deeply funny, real, poignant, and then lives with you after you're finished. Cara is such a deeply rich character I felt that I'd known her all my life."
—BookRiot
"[A] modern-day hero...Told through Cara's sessions with a job counselor, this relatable story shows what true resilience looks like."
—Real Simple
"Cruz paints a nuanced portrait of a woman's introspections on her life and a critical snapshot of the rapidly shifting terms of American life."
—PopSugar
"Cruz's latest novel blazes with brilliance, from its first-person character development to its structure to its deliciously slow reveals...You can't help but root for Cara."
—AV Club
"[An] intimate tale…Cara's life unspools as we learn about her life and relationships in this creative novel."
—Good Morning America
"How Not to Drown in a Glass of Water is unlike anything you've read this year."
—Bustle
"Hilarious and immersive."
—Oprah Daily
"Big Neapolitan-novels-meets-Topics-of-Conversations vibes...I can't wait to fall into this one."
—LitHub
"Brilliantly illustrat[es] the importance of telling one's story."
—Ms. Magazine
"Cruz brings us Cara Romero, a Spanish-speaking immigrant in her mid-50s who's lost her factory job. Over 12 sessions with her job counselor she recounts her poignant story, with humor."
—AARP
"Cara's voice is direct and full of personality. We can hear her talking to us throughout the book and turning these pages is like being invited into a neighbor's kitchen for a good gossip session…Cruz has created an unforgettable character in Cara. And readers will feel like they've made a new, fascinating friend."
—New York Journal of Books
"Cara delves into love affairs, debt, gentrification, and what drove her and her estranged son apart. Faced with secrets and darkness from her past, Cruz writes a woman who still has plenty of fight left in her."
—Brit + Co
"With wit and warmth, author Cruz explores Cara's [life]. The potency of Cara's first-person voice as she speaks to the job counselor is undeniable…A poignant portrait of one fallible, wise woman and a corner of one of New York's most vibrant immigrant communities."
—Kirkus Reviews

"[Cruz] channels Cara's warm voice…Cara shines as a caring friend and a survivor thanks to support systems that transcend family ties."
—Booklist
"A tender and quintessentially American portrait."
—Publishers Weekly
"An absolute masterpiece—where to begin? I could tell you about this novel's innovative structure, its riveting story, its glorious and hilarious voice, its satisfactions as a page-turner, or its exquisite poetics that draw on immigrant brilliance. I could tell you it's a stunning exploration of survival, queerness, family, resilience, and the possibilities forged by love. All of that is true. This book is a miracle; prepare to be astonished."
—Carolina De Robertis, author of Cantoras and The President and the Frog

"Absolutely gorgeous. I'm head over heels in love with and moved by Cara Romero. This book is full full full, holding so much life with an effervescent light touch. One of my favorite books I have read in years."
—Quiara Alegria Hudes, Pulitzer Prize-winning playwright and screenwriter of In the Heights
"Angie Cruz's luminous new novel introduces us to the irresistible Cara Romero. An older immigrant worker whose life was upended by the recession of 2008, she offers up a funny, smart, engaging handbook to survival (work, love, children, familia) in a crazily changing world. Personally, I think Cara should have her own talk show!"
—Cristina Garcia, author of Dreaming in Cuban
"Continuously surprising...Stupendous. The voice comes alive with such immediacy in this formally inventive novel. I loved every page of it."
—Idra Novey, author of Those Who Knew
"Poignant and lovely and wonderful. I read it in one sitting and will read it again. Angie Cruz is a genius."
—Jennifer Croft, Man Book International-winning translator and author of Homesick
"So good. Wow. I've laughed so much already. Cara is hands down becoming one of my favorite characters. This is a page-turner for sure."
—Saraciea Fennell, editor of Wild Tongues Can't Be Tamed
"Write this down: Cara Romero is going to steal your heart. Such a beautiful, funny, tender, and empowering story. And what a nuanced portrayal of motherhood."
—Cleyvis Natera, author of Neruda on the Park
"You will love, yes, love and identify with this brilliantly written story. We are all Cara Romero."
—Kianny Antigua, award-winning translator of Dominicana