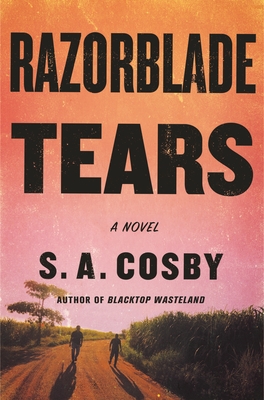 Razorblade Tears: A Novel
Publication Date:
April 5th, 2022
Publisher:
Flatiron Books
Good Neighbor Bookstore
1 on hand, as of Dec 9 8:07am
(Mystery/Thriller)
On Our Shelves Now
Description
*INSTANT NEW YORK TIMES BESTSELLER* One of Barack Obama's Recommended Reads for Summer • New York Times Notable Book • NPR's Best Books of 2021 • Washington Post's Best Thriller and Mystery Books of the Year • TIME Magazine's 100 Must-Read Books of 2021 • New York Public Library's Best Books of the Year • Goodreads Choice Award Nominee • Book of the Month's Book of the Year Finalist
"Provocative, violent — beautiful and moving, too." —Washington Post
"Superb...Cuts right to the heart of the most important questions of our times." —Michael Connelly
"A tour de force – poignant, action-packed, and profound." —Milwaukee Journal Sentinel

A Black father. A white father. Two murdered sons. A quest for vengeance.
Ike Randolph has been out of jail for fifteen years, with not so much as a speeding ticket in all that time. But a Black man with cops at the door knows to be afraid.
The last thing he expects to hear is that his son Isiah has been murdered, along with Isiah's white husband, Derek. Ike had never fully accepted his son but is devastated by his loss.
Derek's father Buddy Lee was almost as ashamed of Derek for being gay as Derek was ashamed of his father's criminal record. Buddy Lee still has contacts in the underworld, though, and he wants to know who killed his boy.
Ike and Buddy Lee, two ex-cons with little else in common other than a criminal past and a love for their dead sons, band together in their desperate desire for revenge. In their quest to do better for their sons in death than they did in life, hardened men Ike and Buddy Lee will confront their own prejudices about their sons and each other, as they rain down vengeance upon those who hurt their boys.
Provocative and fast-paced, S. A. Cosby's Razorblade Tears is a story of bloody retribution, heartfelt change - and maybe even redemption.
"A visceral full-body experience, a sharp jolt to the heart, and a treat for the senses…Cosby's moody southern thriller marries the skillful action and plotting of Lee Child with the atmosphere and insight of Attica Locke." —NPR
Praise for Razorblade Tears: A Novel
New York Times Notable Book • NPR's Best Books of 2021 • Washington Post's Best Thriller and Mystery Books of the Year • One of Barack Obama's Recommended Reads for Summer • TIME Magazine's 100 Must-Read Books of 2021 • Kirkus's Best Mysteries and Thrillers of the Year • New York Public Library's Best Books of the Year • Chicago Public Library's Best Books of the Year • Goodreads Choice Award Nominee • BookPage's Best Mystery and Suspense of 2021 • Book of the Month Club Selection • Kirkus's Best 100 Fiction Books of 2021 • New York Times Editors' Choice • Finalist for the Southern Book Prize (SIBA) • Financial Times (UK) Best Crime Fiction of 2021 • Book of the Month's Book of the Year Finalist

"Cosby's prose is vibrant and inventive, his action exuberant and relentless…You may come for the setup, but you'll stay for the storytelling. Cosby writes in a spirit of generous abundance and gleeful abandon."
—New York Times Book Review
"S.A. Cosby's new crime novel is provocative, violent — beautiful and moving, too…Elmore Leonard, wherever you are, you've got competition…S.A. Cosby has reappeared as one of the most muscular, distinctive, grab-you-by-both-ears voices in American crime fiction."
—Washington Post
"Razorblade Tears is superb. No doubt, S. A. Cosby is not only the future of crime fiction but of any fiction where the words are strong, the characters are strong and the story has a resonance that cuts right to the heart of the most important questions of our times."
—Michael Connelly, #1 New York Times bestselling author

"A tour de force – poignant, action-packed, and profound."
—Milwaukee Journal Sentinel
"A visceral full-body experience, a sharp jolt to the heart, and a treat for the senses…Cosby's moody southern thriller marries the skillful action and plotting of Lee Child with the atmosphere and insight of Attica Locke."
—NPR
"Stunningly poignant and brutally profound…Cosby gives readers a unique take on a revenge narrative, one propelled by furious action and two incredibly authentic and compelling main characters."
—Minneapolis Star Tribune
"Utterly unique…Cosby wisely tweaks the formula, mixing in biting humor and frank confrontations about race and sexuality amid the mayhem…Riding shotgun with the violence, though, is also great beauty — in descriptions of the grief of a community, in the fathers' stirring awareness of the true meaning of love and even in Cosby's reverence for the vibrant natural world (a sunset "dipping lower than a ballroom dancer")."
—Los Angeles Times
"Cosby has crossed Elmore Leonard with Walter Mosley to produce the thrill ride of the summer…Sounds like the perfect vehicle for a Will Smith/Bradley Cooper summer blockbuster…Cosby's writing is cinematic, with action-movie sequences and dialogue that's more buddy movie than noir…Razorblade Tears is an instant classic."
—Pittsburgh Post-Gazette
"An action-packed story that starts strong and accelerates, Razorblade Tears also is an insightful story about racism, homophobia, parenting, classism, squandered chances and seized opportunities…Razorblade Tears combines the best of thought-provoking fiction, character studies and hard-charging action."
—South Florida Sun-Sentinel
"[A] powerful thriller…Equal parts a bloody Tarantino film — think "Kill Bill" — and a saga of redemption by fire, both men needing to avenge their boys' deaths to atone for failing them in life…I agree with the hype. Razorblade Tears may run only 300 or so pages, but it's an epic."
—Washington Independent Review of Books
"Following Blacktop Wasteland was one hell of a challenge, but S. A. Cosby doesn't merely deliver, he ups his game with Razorblade Tears, a story that addresses the big questions while never losing sight of the characters at its core. Taut, tense, and thoughtful, Razorblade Tears confirms Cosby as one of the most important new voices in contemporary fiction, period."
—Michael Koryta, New York Times bestselling author of Those Who Wish Me Dead
"A violent noir revenge story you can't stop reading. One of my favorite books of the summer."
—R. L. Stine, bestselling author
"A powerful blend of pulsing action, sensitive and subtle character interaction, and uncompromising but highly nuanced reflection on racism and homophobia…Few novels marry tough and tender, head-banging and coming-of-age, as seamlessly as this one does, but that's no surprise from a supremely talented writer who keeps getting better."
—Booklist, starred review
"A lean, mean crime story...Fast on its feet, by turns lethal and tender…This is a bloody good yarn with two compelling antiheroes you'll root for from the start."
—Kirkus, starred review
"Simultaneously a contemplative mystery and a stunning thrill ride. A master of his craft, Cosby balances incredibly complicated characters with enveloping suspense and some of the most captivatingly violent scenes that you will ever read…Cosby's writing is both fearless and sympathetic, exhibiting his formidable intellect alongside vivid imagery, sharp wit and intricate plot lines."
—BookPage, starred review
"[Cosby's] story of fathers and sons, of men learning to respect others' lives, has an unexpected depth for such a violent, confrontational book. This powerful book should be in every library."
—Library Journal, starred review
"A double-barreled action saga that brings to mind the mayhem of early Dashiell Hammett and the bedlam of vintage Sam Peckinpah. Leavening the violence is the salty banter of two bereaved fathers who turn out to be, for better and worse, much more alike than they suspected."
—Wall Street Journal
"S.A. Cosby blew us away with last year's searing heist thriller/rural noir Blacktop Wasteland, and with Razorblade Tears he's done it again. In a heartbreaking tale of love, murder, vengeance, and acceptance, two ex-cons, one Black and one white, team up to find those responsible for the death of their sons, who were married to each other…Shattering and beautiful, this is a must-read for genre and literary fiction fans alike."
—CrimeReads
"S. A. Cosby is a once-in-a-generation storyteller — and he's only getting started. In Razorblade Tears, Cosby delivers a jaw-dropping thriller of vengeance, cruelty, and heart. His iconic voice, cinematic prose, and brilliant plotting will have you hearing an 80-piece orchestra at full crescendo as you race towards an ending so explosive, you'll literally duck for cover. This book is far more than a work of art; it's the gold standard."
—P. J. Vernon, author of Bath Haus
"The mystery community has been raving about Blacktop Wasteland, in my mind, the best novel of last year. Believe it or not, this book is even better...This book is not only an exciting thriller, there is much depth to the writing, as well. Race, LGBT, class structure is all covered here…The plot is totally compelling and the pacing is relentless, overall. I could not put it down...Highly, highly recommended."
—Deadly Pleasure Magazine
"The very definition of a white-knuckle ride…don't know when I last read such a bruising book about bruised people."
—Ian Rankin, New York Times bestselling author
"A harrowing portrait of two fathers grappling with their messy pasts amid a violent present in the American South."
—TIME
"Buckets of blood are spilled, but in a volume that's proportional to the amount of soul-searching going on and the number of jokes being cracked…Razorblade Tears ups the ante by introducing characters forced to grapple with their thoughts on homosexuality and interracial love while Confederate flags fly around the...S. A. Cosby's terrific follow-up to Blacktop Wasteland is another rustic noir centered on a Black man with a checkered past who feels forced to jeopardize his straight-arrow status."
—Shelf Awareness, starred review
"Gripping and fast-paced, this is an immensely entertaining read. The laconic protagonists, on a mission to avenge their sons' murders and make amends for their own shortcomings as fathers, meet some fantastically nasty bad guys, and the results are deeply satisfying. There is a real humanity in the storytelling which elevates this thriller to another league. Highly recommended."
—Alex George, bestselling author of The Paris Hours
"If you prefer your summer reads to be grab-you-by-the-throat sort, be sure to check out Razorblade Tears by S.A. Cosby...Cosby's deft blue-collar characterization and powerful, high-octane prose will thrill fans of Dennis Lehane, Walter Mosely and Don Winslow."
—Shawnee Mission Post
"Fast-paced but moving thriller…The exuberant but choreographed violence in Razorblade Tears might remind you of Quentin Tarantino's films...like [Elmore Leonard], Cosby can create a vivid character sketch in a few lines and knows how to counter the darkest situations with humor…His voice is his own, his characters engaging and surprising, his narrative skill impressive."
—Tampa Bay Times
"Graphic, explosive, cinematic story-telling at its finest… Razorblade Tears is crime fiction as raw, gutsy and hardcore as it comes . . . definitely not for the faint of heart… Highly recommended for fans of hardcore crime fiction and great, heartfelt storytelling everywhere."
—mysteryandsuspense.com
"Cosby's talents for pungent dialogue and Chandler-esque phrase-making…[are] evident again in this pulsating follow-up, which oddly but fruitfully combines progressive values…with the mayhem-packed chronicle of an atavistic pursuit of revenge."
—Times of London
"A nuanced take on contemporary race and LGBTQ issues of a type not commonly found in crime fiction. Chalk up another winner to Cosby."
—Publishers Weekly
"A vivid, tense thriller...reminiscent of another superlative black American writer, Attica Locke…Ferociously gripping."
—Financial Times (UK)
"It's a rare trick to combine violence with social commentary, but Cosby pulls it off."
—Daily Mail