Discounted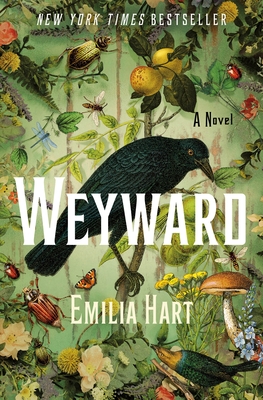 Weyward: A Novel
Previous price:

$29.00
Current price:

$27.99
Publication Date:
March 7th, 2023
Publisher:
St. Martin's Press
Good Neighbor Bookstore
1 on hand, as of Dec 9 8:07am
(Fiction)
On Our Shelves Now
An alluring tale spanning 400 years in the lives of three interconnected women. The magical connection unfolds as they each try to break free of the men that want control and the constraints of their time. Feminist and heartbreaking.
March 2023 Indie Next List
Description
INSTANT NEW YORK TIMES BESTSELLER
WINNER OF TWO GOODREADS CHOICE AWARDS (Best Debut Novel & Best Historical Fiction)

An Indie Next March 2023 Pick • A LibraryReads March 2023 Pick • An Amazon "Best Books of the Year So Far" 2023 Pick
"A brave and original debut, Weyward is a spellbinding story about what may transpire when the natural world collides with a legacy of witchcraft." ––Sarah Penner, New York Times bestselling author of The London Séance Society

I am a Weyward, and wild inside.
2019: Under cover of darkness, Kate flees London for ramshackle Weyward Cottage, inherited from a great-aunt she barely remembers. With its tumbling ivy and overgrown garden, the cottage is worlds away from the abusive partner who tormented Kate. But she suspects that her great-aunt had a secret. One that lurks in the bones of the cottage, hidden ever since the witch-hunts of the 17th century.
1619: Altha is awaiting trial for the murder of a local farmer who was stampeded to death by his herd. When Altha was a girl, her mother taught her their magic, a kind not rooted in spell casting but in a deep knowledge of the natural world. But unusual women have always been deemed dangerous, and as the evidence of witchcraft is laid out against Altha, she knows it will take all her powers to maintain her freedom.
1942: As World War II rages, Violet is trapped in her family's grand, crumbling estate. Straitjacketed by societal convention, she longs for the robust education her brother receives––and for her mother, long deceased, who was rumored to have gone mad before her death. The only traces Violet has of her are a locket bearing the initial W and the word weyward scratched into the baseboard of her bedroom.
Weaving together the stories of three extraordinary women across five centuries, Emilia Hart's Weyward is an astonishing debut, and an enthralling novel of female resilience.
Praise for Weyward: A Novel
"All three women will find solace in a powerful connection with nature, but all three will need to combat the life-changing power of some very bad men." ––New York Times Book Review
"A triumphant debut...the magic harnessed by the characters feels completely real in this captivating outing." ––Publishers Weekly (starred review)
"Lovely and vivid, Emilia Hart's voice is totally original, both gentle and fierce...A bold and bewitching debut, the big takeaway is that the power and magic found there is already in you, waiting for you to finally embrace it." ––Sarah Addison Allen, New York Times bestselling author of Other Birds
"A thoughtful and touching debut, Weyward [is] a tour de force rendered with striking ingenuity. Hart creates this imaginative tale with insight and intensity, finely drawn characters and a wealth of clues...with arresting prose and passages that approach poetry...But what sets Weyward apart from other witchcraft-related fiction is Hart's wise decision to also explore topics that require no belief in the dark arts: men's fear of women and the violence it can generate, women's affinity for their ancestors and the blessings bestowed by intimate contact with the natural world." ––The Free Lance-Star of Fredericksburg
"A riveting journey of family secrets, betrayal, and resilience." ––Zibby Mag
"Weyward is a bewitching historical fiction that will entrance fans of Alice Hoffman with its take on natural magic and sisterhood." ––E! Online
"A promising debut…Hart links the three stories very cleverly in this entertaining read about witchcraft, maternal ties and the power of the natural world." ––The Times (UK)
"Weyward glows and glimmers with hidden powers, thrills and danger…[and] draws readers inexorably to a glorious conclusion that celebrates connectedness and the power of women and nature...A suspenseful, magical debut." ––Shelf Awareness
"Gripping...Thoughtful and at times harrowing, this novel is a successful blend of historical fiction and modern feminism." ––Kirkus
"Tension and suspense are skillfully maintained as these women seek to extricate themselves from dire circumstances and discover secret strength. The result is a tale of magic and female empowerment and an atmospheric, gripping read." ––Booklist
"Hart's writing is stunning. She writes with grace and control [and her] greatest strength is her ability to harness suspense…When depicted both figuratively and literally, Hart's witches harness an inspiring feminine power." ––Chicago Review of Books
"A generational tale of female resilience." ––The Guardian
"A compelling intergenerational novel of female empowerment." ––Historical Novel Society
"It seems to be the year of the witch book, and this is the best so far. A gripping debut." ––Good Housekeeping (UK)
"In a truly impressive novel––even more so considering it's a debut––Emilia Hart has woven the stories of three women from three very different times into a tapestry of resilience and hope." ––Mystery and Suspense
"The three timelines and the compelling stories of each of the women intertwine and are layered with the natural magic that runs through the female line of the Weyward family―magic that will help and heal. This combination of magical realism and historical fiction is perfect for fans of Alice Hoffman and Megan Giddings." ––Library Journal
"Weyward is a satisfying, well-plotted historical page turner and a welcome addition to the feminist field of 'witcherature." ––Bookpage
"Told in separate narratives that intertwine ever tighter as their stories unfold, Weyward is an epic drama of three remarkable women finding their strength and power through the words of each other and a unique common legacy." ––BookTrib
"Weyward is an intelligent, hard-hitting, mesmerizing novel marking the auspicious debut of a talented writer and storyteller." ––BookBrowse Review
"A totally unique debut that shines a light on the female experience. I loved it."
––Gillian McAllister, New York Times bestselling author of Wrong Place Wrong Time
"Weyward spans three women's lives in three different centuries, connected by blood and one very unique gift. The writing's beautiful, the women are wonderful, and each narrative is as compelling as the next. Alive, vivid, gripping. Real magic." ––Abigail Dean, New York Times bestselling author of Girl A
"A very poignant story of female endurance and hidden power, humming with a sly, exhilarating magic." ––Bridget Collins, Sunday Times bestselling author
"An utterly absorbing page turner. Emilia Hart has written a brilliant story of the strength, resilience and power of three women spanning decades, against a stunning backdrop of the frailty and beauty of nature. This is an outstanding debut and worthy of all the stars."
––Abi Daré, New York Times bestselling author of The Girl With the Louding Voice
"Scuttling with insects and dripping with dark magic, this book got its claws into me and simply refused to let go. An astonishingly accomplished debut, it is beguiling, absorbing and exquisitely rendered, with prose as finely-crafted as a dragonfly's wing. With Weyward, Emilia Hart bursts onto the literary scene with a howl of feminist rage."
––Lizzie Pook, author of Moonlight and the Pearler's Daughter
"Beautifully written and intricate as a spider's web, Weyward weaves an intergenerational tale of sorrow, love, and strength. Though separated by decades or even centuries, these three Weyward women―Altha, Violet, and Kate―are each other's heritage and legacy, and the power they each possess pays tribute to the connections between women, nature, and family." ––Sunyi Dean, author of The Book Eaters