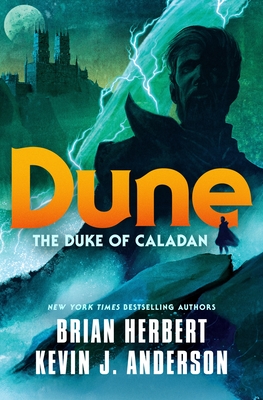 Dune: The Duke of Caladan (The Caladan Trilogy #1)
Publication Date:
September 7th, 2021
Good Neighbor Bookstore
2 on hand, as of Dec 9 8:07am
(Fi/Fantasy)
On Our Shelves Now
Description
A legend begins in Dune: The Duke of Caladan, first in The Caladan Trilogy by New York Times bestselling authors Brian Herbert and Kevin J. Anderson.
Leto Atreides, Duke of Caladan and father of the Muad'Dib. While all know of his fall and the rise of his son, little is known about the quiet ruler of Caladan and his partner Jessica. Or how a Duke of an inconsequential planet earned an emperor's favor, the ire of House Harkonnen, and set himself on a collision course with his own death. This is the story.
Through patience and loyalty, Leto serves the Golden Lion Throne. Where others scheme, the Duke of Caladan acts. But Leto's powerful enemies are starting to feel that he is rising beyond his station, and House Atreides rises too high. With unseen enemies circling, Leto must decide if the twin burdens of duty and honor are worth the price of his life, family, and love.
Praise for Dune: The Duke of Caladan (The Caladan Trilogy #1)
"This is a fast-paced, fun read, and it's sure to help with the pangs of missing out on the film this year." —Big Shiny Robot
"Dune: The Duke of Caladan is the first of a trilogy set just before Dune, and is a great entry in the series, perfect to read just before tackling a reread of the main cycle." —Grimdark Magazine
"Characters and plot are thus beautifully set up, the timing is precise...the universe...is so vast, complex and fascinating that the magic lingers." —Kirkus Reviews on Sisterhood of Dune
"Delivers solid action and will certainly satisfy." —Booklist on The Winds of Dune
"Fans of the original Dune series will love seeing familiar characters, and the narrative voice smoothly evokes the elder Herbert's style." —Publishers Weekly on The Winds of Dune
"This sequel to Paul of Dune is an important addition to the Dune chronology and will be in demand by Herbert fans." —Library Journal, starred review on The Winds of Dune