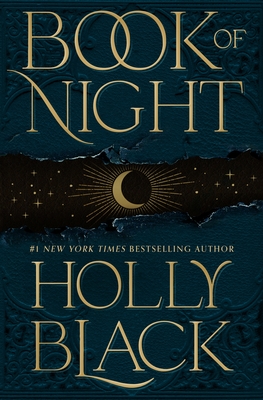 Book of Night
Publication Date:
May 3rd, 2022
Good Neighbor Bookstore
3 on hand, as of Dec 9 8:07am
(fi/Fantasy)
On Our Shelves Now
Holly Black's adult fantasy debut is as chilling, dark, and action-packed as you'd expect. The world of shadow magic is fascinating, the story is an absolute page-turner, and Charlie is messy, clever, and completely relatable.
May 2022 Indie Next List
Description
"A delicious, dark, adrenaline rush of a book. I'm already dying to see Charlie Hall's next con." - New York Times bestselling author, Alix E. Harrow

#1 New York Times bestselling author Holly Black makes her stunning adult debut with Book of Night, a modern dark fantasy of betrayals, secret societies, and a dissolute thief of shadows, in the vein of Neil Gaiman and Erin Morgenstern.
Charlie Hall has never found a lock she couldn't pick, a book she couldn't steal, or a bad decision she wouldn't make.
She's spent half her life working for gloamists, magicians who manipulate shadows to peer into locked rooms, strangle people in their beds, or worse. Gloamists guard their secrets greedily, creating an underground economy of grimoires. And to rob their fellow magicians, they need Charlie Hall.
Now, she's trying to distance herself from past mistakes, but getting out isn't easy. Bartending at a dive, she's still entirely too close to the corrupt underbelly of the Berkshires. Not to mention that her sister Posey is desperate for magic, and that Charlie's shadowless, and possibly soulless, boyfriend has been hiding things from her. When a terrible figure from her past returns, Charlie descends into a maelstrom of murder and lies.
Determined to survive, she's up against a cast of doppelgangers, mercurial billionaires, gloamists, and the people she loves best in the world—all trying to steal a secret that will give them vast and terrible power.
Praise for Book of Night
"Dark, strange, thick with mystery and twists—a story so believable in its magic, you'll be keeping one eye on your shadow as you turn the pages." — Leigh Bardugo, New York Times bestselling author of Ninth House
"If Neil Gaiman channeled Stephen King, the result might be this book . . . scintillating prose, whiplash twists, and a voice of character that demands to be heard from again." — James Rollins, New York Times bestseller of The Starless Crown
"Heart, soul, and a bit of kink—Book of Night is smart, decadent fun."— Kelly Link, Pulitzer Prize Finalist
"A dark romp full of danger and shadows with a razor sharp heroine and vivid magic." — Zoraida Córdova, Nationally bestselling author of The Inheritance of Orquídea Divina
"A deliciously clever page-turner." —Paolo Bacigalupi, New York Times Bestselling author of The Water Knife
"Book of Night delivers hot sex, a breathless plot, perfect characters, and some of the most gorgeous writing I've read in years, sharp as a razor blade, clear as a one-way glass." — Ellen Kushner, award-winning author of Swordspoint
"A delicious, dark, adrenaline rush of a book. I'm already dying to see Charlie Hall's next con." - New York Times bestselling author, Alix E. Harrow
"A dark and glittering cocktail of a book, heady with glamour and seediness, deep magic and desperate grifters. Black's spiky, irresistible heroine will lead you like a will o' the wisp into the dark." — Melissa Albert New York Times Bestselling author of The Hazel Wood
"Holly Black is a master of fantasy with the Midas touch--there is no story she cannot turn to gold." — V.E. Schwab, New York Times bestselling author of The Invisible Life of Addie LaRue
"A gripping ride from start to finish. Book of Night invites you to reckon with the shadows of your past." — Olivie Blake, author of The Atlas Six
"Black is a master at world-building." — The New York Times
Praise for The Cruel Prince:
"Lush, dangerous, a dark jewel of a book…. This delicious story will seduce you and leave you desperate for just one more page." —Leigh Bardugo, #1 New York Times bestselling author of Six of Crows and the Shadow and Bone trilogy
"I require book two immediately. Holly is the Faerie Queen." —Victoria Aveyard, #1 bestselling author of the Red Queen series