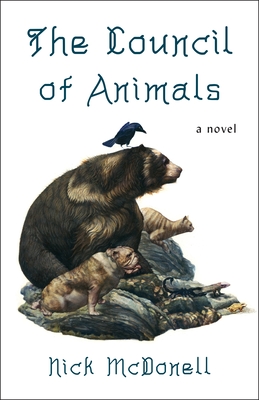 The Council of Animals: A Novel
Publication Date:
July 19th, 2022
Publisher:
Holt Paperbacks
Good Neighbor Bookstore
2 on hand, as of Sep 30 5:52am
(Fiction)
On Our Shelves Now
Description
From national bestselling author Nick McDonell, The Council of Animals is a captivating fable for humans of all ages—dreamers and cynics alike—who believe (if nothing else) in the power of timeless storytelling.
"'Now,' continued the cat, 'there is nothing more difficult than changing an animal's mind. But I will say, in case I can change yours: humans are more useful to us outside our bellies than in.'"
Perhaps.
After The Calamity, the animals thought the humans had managed to do themselves in. But, it turns out, a few are cowering in makeshift villages. So the animals—among them a cat, a dog, a crow, a baboon, a horse, and a bear—have convened to debate whether to help the last human stragglers . . . or to eat them.
Rest assured, there is a happy ending. Sort of.
Featuring illustrations by Steven Tabbutt
Praise for The Council of Animals: A Novel
"The book's overall effect . . . beautifully obliterates pigeonholes. The echoes of Animal Farm are many, but here, the main target of social critique is far larger than totalitarianism. . . . As an anthropomorphic folktale, The Council of Animals is concise, clever, and wonderfully conceived."
—Jason Heller, NPR
Both wildly imaginative and surprisingly funny, with (mostly) endearing characters, this thinly veiled metaphor offers what feels like an appropriate outcome. Tabbutt's drawings of the animals add to the whimsy and interest of the tale by McDonell (An Expensive Education; The Bodies in Person), which readers of all ages will enjoy. Highly recommended."
—Library Journal
"McDonell's clever, lively prose and snappy pacing propels readers onward. The Council of Animals has the feel of a fable, both a romp with sweetly goofy animal characters and a serious and clear-eyed story about the real world and its dangers. . . . Thought-provoking, captivating, funny, instructive: this is a book for readers who have ever yearned for a little extrahuman wisdom and cheer."
—Shelf Awareness
"The Council of Animals is a delightful fable full of wit and wisdom. Nick McDonell has dreamed up an ingenious mythology for his animals and he portrays them with the charm of Milne or Carroll. McDonell has the rare ability to combine irony with empathy and deliver satire with grace. The result is a timelessly entertaining tale that readers will find inspiring and irresistible."
—Simon Rich, author of New Teeth and Ant Farm

"This tale's ratio of wit to wildness is positively golden. Its subtle logic and frank and tender mischief have somehow left me with the feeling of having witnessed a wake and christening combined—and I'm so very glad I attended."
—Helen Oyeyemi, author of What Is Not Yours Is Not Yours