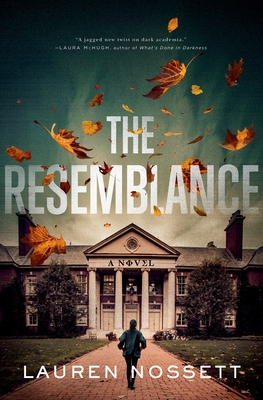 The Resemblance: A Novel
Publication Date:
October 31st, 2023
Publisher:
Flatiron Books
Good Neighbor Bookstore
3 on hand, as of Dec 9 8:07am
(Mystery/Thriller)
On Our Shelves Now
Description
Lauren Nossett's artfully written debut, The Resemblance is an exhilarating, atmospheric campus thriller reminiscent of If We Were Villains and The Likeness.
Never betray the brotherhood
On a chilly November morning at the University of Georgia, a fraternity brother steps off a busy crosswalk and is struck dead by an oncoming car. More than a dozen witnesses all agree on two things: the driver looked identical to the victim, and he was smiling.
Detective Marlitt Kaplan is first on the scene. An Athens native and the daughter of a UGA professor, she knows all its shameful histories, from the skull discovered under the foundations of Baldwin Hall to the hushed-up murder-suicide in Waddel. But in the course of investigating this hit-and-run, she will uncover more chilling secrets as she explores the sprawling, interconnected Greek system that entertains and delights the university's most elite and connected students.
The lines between Marlitt's police work and her own past increasingly blur as Marlitt seeks to bring to justice an institution that took something precious from her many years ago. When threats against her escalate, and some long-buried secrets threaten to come to the surface, she can't help questioning whether the corruption in Athens has run off campus and into the force and how far these brotherhoods will go to protect their own.
Praise for The Resemblance: A Novel
"A timely, expertly plotted mystery about power and privilege, The Resemblance will grab you from the first page and keep you guessing until the final twist. A captivating debut." —Alafair Burke, bestselling author of Find Me
"At once a careful, nuanced dismantling of toxic masculinity and an exploration of academia's dark underbelly,The Resemblance is a powerhouse of a book that is as timely as it is terrifying. Perpetually twisty and full of chilling secrets, this masterful debut heralds Lauren Nossett as a fearless new voice in crime thrillers." —Laurie Elizabeth Flynn, author of The Girls Are All So Nice Here
"Twisty, dark and brilliant, The Resemblance is a chilling crime thriller that will keep you turning the pages faster than you can binge a true crime podcast." —Sally Hepworth, bestselling author of The Good Sister
"Lauren Nossett's The Resemblance is a fresh, haunting take on dark academia that brilliantly peels back the layers of genteel southern Greek life to reveal the horrors lurking underneath. A sinister, addictive blend of self-aware police procedural and campus novel, this is the kind of book that slips its fingers around your throat and doesn't let go, complete with a jaw-dropping twist. Nossett is a gutsy, sensational new voice in crime fiction." —Ashley Winstead, author of The Last Housewife
"The Resemblance is a taut campus mystery that grows bigger and dives deeper into the community as the crime unfolds. Twisty turns with an emotional punch deliver a captivating read." —Wendy Walker, bestselling author of Don't Look for Me
"A campus crime plunges a driven young detective into the shadowy depths of Greek life, where power and privilege hide sinister secrets. In The Resemblance, Nossett pushes the stakes ever higher, and the horrors of this hidden world feel all too real. A timely and compelling thriller, and a jagged new twist on dark academia." —Laura McHugh, award-winning author of What's Done in Darkness
"The Resemblance is a menacing whodunnit that explores the importance of brothers, but the dangers of elite brotherhoods. You'll never look at men in the corridors of power the same way again. Detective Marlitt Kaplan is a heroine for our times." —Justine Ford, author of The Good Cop