Preorder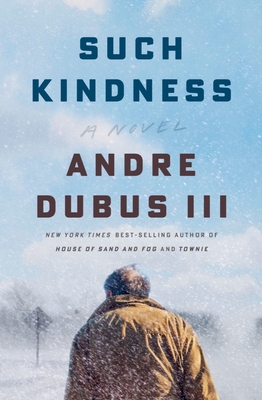 Such Kindness: A Novel
Publication Date:
June 6th, 2023
Publisher:
W. W. Norton & Company
Good Neighbor Bookstore
12 on hand, as of Jun 4 12:37pm
(Fiction)
Available for Preorder
Description
A working-class white man takes a terrible fall.
Tom Lowe's identity and his pride are invested in the work he does with his back and his hands. He designed and built his family's dream home, working extra hours to pay off the adjustable rate mortgage he took on the property, convinced he is making every sacrifice for the happiness of his wife and son. Until, in a moment of fatigued inattention, shingling a roof in too-bright sunlight, he falls.
In constant pain, addicted to painkillers at the cost of his relationships with his wife and son, Tom slowly comes to realize that he can never work again. If he is not a working man, who is he? He is not, he believes, the kind of person who lives in subsidized housing, though that is where he has ended up. He is not the kind of person who hatches a scheme to commit convenience-check fraud, together with neighbors he considers lowlifes, until he finds himself stealing his banker's trash.
Who is Tom Lowe, and who will he become? Can he find a way to reunite hands and heart, mind and spirit, to be once again a giver and not just a taker, to forge a self-acceptance deeper than pride?
Andre Dubus III's soulful cast includes Trina, the struggling mom next door who sells her own plasma to get by; Dawn, the tough-talking owner of the local hairdressing salon; Jamie, a well-meaning pothead college student ready to stick it to "the man"; and a mix of strangers and neighbors who will never know the role they played in changing a life. To one man's painful moral journey, Dubus brings compassion with an edge of dark absurdity, forging a novel as absorbing as it is profound.
Praise for Such Kindness: A Novel
Such Kindness charts a remarkable rebirth, not from poverty to wealth but from bitter helplessness to the knowledge of self-worth. The result is a gripping and transformational journey toward kindness, in a tremendously moving novel.
— Ann Patchett, author of The Dutch House
Such Kindness is magnificent. A profound and compassionate study of how to be human wrapped in a taut survival story. I loved it so much. This is Dubus at his absolute finest.
— Lily King, author of Euphoria
Such Kindness is a deeply spiritual book, almost religious in its focus on forgiveness and connection and a deep belief in the worth of everyone—the broken, the sick, the elderly, and addicted. Andre Dubus III's new novel is a gift to his readers, and a reminder to all of us that we can be better and kinder people.
— Tom Perrotta, author of Tracy Flick Can't Win
Dubus returns with a heartrending account of one man's desperate quest to retain his sense of goodness under the long shadow of the financial crisis…This is a stirring addition to Dubus's formidable oeuvre.
— Publishers Weekly (starred review)
Dubus is a scribe of the blue collar, the downtrodden, and the destitute, with an uncanny ability to capture guilt, shame, and anger while also infusing his characters with resilience, strength, and hope. Few writers paint three-dimensional characters with such verve and humanism. Dubus is the Botticelli of Beantown.
— Bill Kelly - Booklist (starred review)