Discounted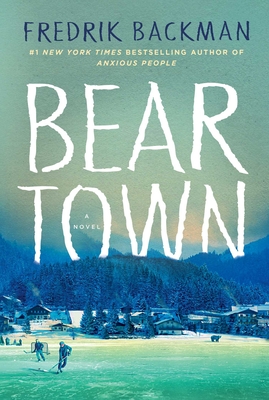 Beartown: A Novel (Beartown Series)
Previous price:

$28.99
Current price:

$28.00
Publication Date:
April 25th, 2017
Usually Ships in 1 to 5 Days
After a family tragedy, former NHL player Peter Andersson moves his family back to Beartown, where he's gotten a job as general manager for the local hockey club. Beartown is on its way back up, riding the heels of its most successful junior team in years. On the cusp of that victory, news breaks of a crime that shakes the community to its core. When the worst happens, who do you stand by - your team, your community, your family? In Beartown, Backman shows us, once again, that human beings are anything but predictable.
May 2017 Indie Next List
I loved this book so much that I truly didn't want it to end. Backman writes stories that are full of heart yet gritty and real enough that they don't veer into cloying sentimentality. He is a master craftsman, weaving subtle details into a beautifully told, captivating masterpiece. Beartown, on the edge of nowhere, is in an economic decline, with only the town's hockey team giving its residents hope for the future and a sense of belonging. When that future is threatened, Beartown's residents are forced to show what they really stand for. If you like John Irving, if you love Richard Russo, if you want a novel that is just plain wonderful, read Beartown!
Summer 2018 Reading Group Indie Next List
Description
"You'll love this engrossing novel." —People
From the bestselling author of A Man Called Ove and Anxious People, Fredrik Backman captivates readers with a dazzling, profound novel about a small town with a big dream—and the price required to make it come true.
People say Beartown is finished. A tiny community nestled deep in the forest, it is slowly losing ground to the ever-encroaching trees. But down by the lake stands an old ice rink, built generations ago by the working men who founded this town. And in that ice rink is the reason people in Beartown believe tomorrow will be better than today. Their junior ice hockey team is about to compete in the national semi-finals, and they actually have a shot at winning. All the hopes and dreams of this place now rest on the shoulders of a handful of teenage boys.
Being responsible for the hopes of an entire town is a heavy burden, and the semi-final match is the catalyst for a violent act that will leave a young girl traumatized and a town in turmoil. Accusations are made and, like ripples on a pond, they travel through all of Beartown, leaving no resident unaffected.
Beartown explores the hopes that bring a small community together, the secrets that tear it apart, and the courage it takes for an individual to go against the grain. In this story of a small forest town, Fredrik Backman has found the entire world.
Praise for Beartown: A Novel (Beartown Series)
PRAISE FOR BEARTOWN
"Backman is a masterful writer, his characters familiar yet distinct, flawed yet heroic. . . There are scenes that bring tears, scenes of gut-wrenching despair, and moments of sly humor. . .Like Friday Night Lights, this is about more than youth sports; it's part coming-of-age novel, part study of moral failure, and finally a chronicle of groupthink in which an unlikely hero steps forward to save more than one person from self-destruction. A thoroughly empathetic examination of the fragile human spirit, Backman's latest will resonate a long time."
— Kirkus Reviews
"[It's] Backman's rich characters that steal the show, and his deft handling of tragedy and its effects on an insular town.  While the story is dark at times, love, sacrifice, and the bonds of friendship and family shine through ultimately offering hope and even redemption."
— Publishers Weekly
"Another solid offering from best-selling Swedish author Backman, with many parallels for American readers and small towns everywhere."
— Library Journal
"The sentimentally savvy Backman (A Man Called Ove, 2014) takes a sobering and solemn look at the ways alienation and acceptance, ethics and emotions nearly destroy a small town and young people."
— Booklist
"[A] slow burn of a novel about a community that pours all its hopes into a youth hockey team. Think Friday Night Lights for Swedes."
— O, The Oprah Magazine
"As popular Swedish exports go, Backman is up there with Abba and Stieg Larssson."
— The New York Times Book Review
"Backman is the Dickens of our age, and though you'll cry, your heart is safe in his hands."
— Green Valley News (Arizona)
"There are, in the end, real acts of bravery and sacrifice in this appealing novel."
— Wall Street Journal
"Mr. Backman cements his standing as a writer of astonishing depth and proves that he also has very broad range plus the remarkable ability to make you understand the feelings of each of a dozen different characters. . . . The story is fully packed with wise insights into the human experience causing characters and readers to ponder life's great question of who we are, what we hope to be and how we should lead our lives."
— The Washington Times
"This novel was well worth reading, and I embrace what I learned from it."
— The Missourian