Discounted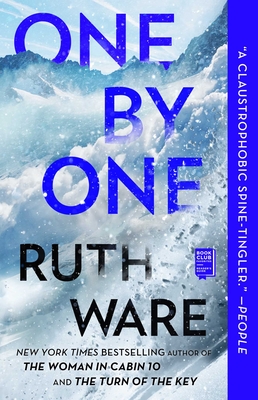 One by One
Previous price:

$17.99
Current price:

$16.99
Publication Date:
May 4th, 2021
Publisher:
Gallery/Scout Press
Good Neighbor Bookstore
1 on hand, as of Sep 30 5:52am
(Mystery/Thriller)
On Our Shelves Now
Erin and Danny are the in-house help that run a French chalet rental, and they enjoy it. But when ten people come for the week from the tech company Snoop, they get a little more than they signed up for. I've said it many times: Ruth Ware just gets better and better. I've loved all her books, but each one is better than the last. One by One is no exception.
September 2020 Indie Next List
Description
This instant New York Times bestseller and "claustrophobic spine-tingler" (People) from Ruth Ware follows a group of employees trapped on a snow-covered mountain.
Getting snowed in at a luxurious, rustic ski chalet high in the French Alps doesn't sound like the worst problem in the world. Especially when there's a breathtaking vista, a full-service chef and housekeeper, a cozy fire to keep you warm, and others to keep you company. Unless that company happens to be eight coworkers…each with something to gain, something to lose, and something to hide.
When the cofounder of Snoop, a trendy London-based tech start-up, organizes a weeklong trip for the team in the French Alps, it starts out as a corporate retreat like any other: presentations and strategy sessions broken up by mandatory bonding on the slopes. But as soon as one shareholder upends the agenda by pushing a lucrative but contentious buyout offer, tensions simmer and loyalties are tested. The storm brewing inside the chalet is no match for the one outside, however, and a devastating avalanche leaves the group cut off from all access to the outside world. Even worse, one Snooper hadn't made it back from the slopes when the avalanche hit.
As each hour passes without any sign of rescue, panic mounts, the chalet grows colder, and the group dwindles further…one by one.
Praise for One by One
PRAISE FOR ONE BY ONE
"[Ware] sets the bar higher in One By One by burying her principal players in an Alpine chalet beneath an avalanche. . . . Readers will recognize the obvious homage to Agatha Christie's And Then There Were None, but with enough ingenious twists to make this whodunit another triumph for Ware."
—The New York Times Book Review
"Not only do Ware's novels wink at Christie in a saucy way, but Ware herself is turning out to be as ingenious and indefatigable as the Queen of Crime." 
—Maureen Corrigan, The Washington Post
"A claustrophobic spine-tingler."
—People, "Best Books of Fall 2020"
"Ware manages to make a retreat in a chalet in the wide-open French Alps feel claustrophobic, nerve-wracking and deadly… The author's choice of telling the story in dueling narratives – Liz, a former Snoop employee who was invited to join in the retreat; and Erin, one of the chalet's two staff members – enhances the steadily escalating pace of the book."
—USA Today
"Especially timely, given that the terror of isolation is at its heart… This is And Then There Were None rendered for the twenty-first century."
—Booklist (starred review)
"Ruth Ware is often described as the new Agatha Christie . . . [S]he is a revitalizer, bringing the genre to a new audience with her modern preoccupations and addictive style."
—Air Mail
"Tempestuous . . . [a] claustrophobic, adrenaline-fueled cat-and-mouse game." 
—Publishers Weekly
"Ware's gifts for characterization, plot, and pacing shine here… Ware's fans will devour this in a sitting."
—Library Journal (starred review)
"Hilarious, well plotted, and vintage Ware, this one is not to be missed."
—CrimeReads
"Ruth Ware's Hitchcockian thrillers have yet to disappoint."
—PopSugar
"Ware does what she does best: Gives us a familiar locked-door mystery setup and lets the tension and suspicion marinate until they reach fever pitch. Another win for Ware… Simply masterful."
—Kirkus
"The Turn of the Key was not her first book, but its sweep of starred reviews and awards sets up One by One to be a most anticipated thriller of 2020."
—Library Journal
"Read this back to back with Christie's And Then There Were None, and you will witness the evolution of a literary form over the space of eight decades as Ware proves she's more than deserving of all those comparisons to the Queen of Crime."
—BookPage
"A gripping thriller that shows how toxic workplace culture can get and will keep you guessing through the very last page."
—Good Housekeeping
"Ware has quickly earned herself a place atop the psychological thriller world in recent years, and One by One, which brings in elements of the traditional mystery, is an exciting new addition to her body of work."
—CrimeReads, "Most Anticipated Crime Books of 2020"
PRAISE FOR RUTH WARE
"The Agatha Christie of our generation."
—David Baldacci, #1 New York Times bestselling author
"A superb suspense writer . . . Brava, Ruth Ware."
—Fresh Air's Maureen Corrigan for The Washington Post
"Diabolically clever."
—Riley Sager, author of Final Girls
"Ruth Ware—one of our favorite thriller writers—is bringing down the house . . ."
—theSkimm
"Ruth Ware proves she's the true heir to Wilkie Collins. Creepy, engrossing, and oh-so-hard to put down."
—JP Delaney, New York Times bestselling author of The Girl Before
"Pure suspense, from the first gripping page to the last shocking twist."
—Erin Kelly, bestselling author of He Said/She Said
"Ware skillfully lays the bread crumbs to the novel's satisfying conclusion… [that] leaves readers with one final, haunting question, one that will stay with them long after they turn the last page."
–Publishers Weekly, starred review
"Ware hits another one out of the park. Fans of hers or anyone with a taste for the disturbing will stay up late devouring this."
—Library Journal, starred review
"Ware at her eerie best."
—Newsweek
"A superb suspense writer… Ware is a master at signaling the presence of evil at the most mundane moments…"
—Washington Post Book World
"The definition of 'unputdownable'…" 
—Refinery29
"A great modern whodunit!"
—New York Post
"Haunting and absurdly suspenseful."
—PureWow
"Ware's propulsive prose keeps readers on the hook and refuses to let anyone off until all has been revealed."
—Shelf Awareness