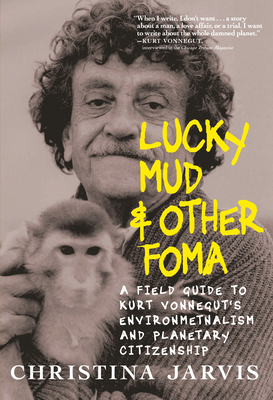 Lucky Mud & Other Foma: A Field Guide to Kurt Vonnegut's Environmentalism and Planetary Citizenship
Publication Date:
December 6th, 2022
Publisher:
Seven Stories Press
Good Neighbor Bookstore
1 on hand, as of Nov 28 2:37pm
(Fiction)
On Our Shelves Now
Description
A fascinating deep dive into Kurt Vonnegut's oeuvre and legacy, illuminating his unique perspective on environmental stewardship and our shared connections as humans, Earthlings, and stardust.
Vonnegut's major apocalyptic trio—Cat's Cradle, Slapstick, and Galápagos—prompt broad global, national, and species-level thinking about environmental issues through dramatic and fantastic scenarios. This book, Lucky Mud and Other Foma, tells the story of the origins and legacy of what Kurt Vonnegut understood as "planetary citizenship" and explores key roots, influences, literary techniques, and artistic expressions of his interest in environmental activism through his writing.
Jarvis takes us on a deep dive into the Vonnegut archives at the Lily Library in Indiana to review the countless drafts of Vonnegut classics like Cat's Cradle and Breakfast of Champions.
Where else can Vonnegut fans learn about "The Rover Boys", an unpublished essay that the teenage Kurt wrote about his cross-country trip with friends?
We learn about the scripts Vonnegut tried to sell to network television during his days as a little-known freelancer in the 1950's and how his study of anthropology at the University of Chicago informed The Sirens of Titan and Cat's Cradle. 
Vonnegut saw writing itself as an act of good citizenship, as a way of "poisoning" the minds of young people "with humanity . . . to encourage them to make a better world." Often that literary activism meant addressing real social and environmental problems—polluted water, soil, and air; racial and economic injustice; isolating and dehumanizing technologies; and lives and landscapes desolated by war. Vonnegut's remedies took many forms, from the redemptive power of the arts to artificial extended families to vital communities and engaged democracies. Reminding us of our shared connections as humans, as Earthlings, as stardust, Lucky Mud helps fans, scholars, and book lovers of all kinds experience how Vonnegut's writings purposely challenge readers to think, create, and love.
Praise for Lucky Mud & Other Foma: A Field Guide to Kurt Vonnegut's Environmentalism and Planetary Citizenship
"In this prodigiously researched, informative, marvelous, eye-opening book, Christina Jarvis illuminates Kurt Vonnegut's life and work through the lens of his intense concern with the well-being of Mother Earth. Casting light on his planetary citizenship, she excavates early influences and artifacts, unearths discarded manuscripts, examines drafts—on his teenaged journeys to the West, racism, car culture, the Cape Cod National Seashore—and traces his love of place through the landscapes where he lived.  She reveals his anguish at unheeded human damage to earth, and his activism. Lucky Mud is a timely, inspiring, wow of a book. I loved it."
—Suzanne McConnell, author of Pity the Reader: On Writing with Style

"In the world of environmental literature, one might think of Rachel Carlson, E.O. Wilson, Walt Whitman. Kurt Vonnegut? Not likely. But to leave him out would be a mistake. Extensively researched and exquisitely written, Dr. Jarvis's book takes the reader through the life, times, and musings of one of the most iconic American writers. Satirical and darkly humorous, Vonnegut is usually classified as a science fiction writer, but Dr. Jarvis accurately places his art within the environmental and social justice lens he intended.  If you aren't a Vonnegut fan, you will be. If you are, this book will give you a deeper love and appreciation for who Vonnegut was and the meanings behind his stories."
— Dr. Sherri A. Mason, Plastic Pollution Researcher and Director of Sustainability, Penn State University, The Behrend College

"With intellectual rigor, unabashed humanity and oodles of quirk, Christina Jarvis has blown the lid on everything we thought we knew about Kurt Vonnegut. From unprecedented research into Vonnegut's childhood to nuanced readings of both Vonnegut's most famous and more obscure writing, Jarvis demonstrates why she is one of the most insightful Vonnegut scholars working today. This book is deeply, giddily, and intellectually Vonnegutian."
— Tom Roston, author of The Writer's Crusade: Kurt Vonnegut and the Many Lives of Slaughterhouse-Five
"Christina Jarvis's Lucky Mud traces the ethical, environmental, planetary teachings and stresses that shape Kurt Vonnegut's vision for a more humane life. Professor Jarvis combines Vonnegut's teenaged writings with his lifelong commitment to free speech, common decency, and planetary survival to present the man behind his absurdist plots."
— Marc Leeds, author of The Vonnegut Encyclopedia

"Christina Jarvis is the leading scholar on Vonnegut's civic engagement, locally and globally. It is a delight to read her work and hear her speak."
— Julia Whitehead, Kurt Vonnegut Museum and Library and author of Breaking Down Vonnegut

"Christina Jarvis sweeps aside the dismissive view of Vonnegut as a fabulist obsessed with space aliens and rocket ships, and shows him as the environmentalist, social justice activist, and "planetary citizen" he was from beginning to end—in both his life and his work. We also learn from her careful study of his manuscripts what a deliberate and painstaking craftsman he was. This book will be useful to Vonnegut scholars and enlightening for Vonnegut fans."
— Ginger Strand, author of The Brothers Vonnegut