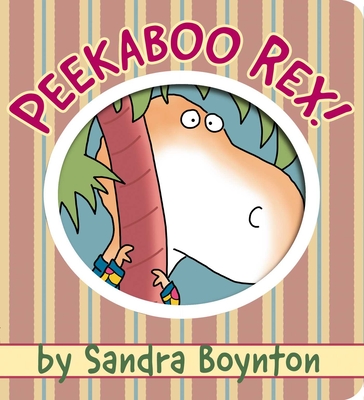 Peekaboo Rex! (Boynton on Board)
Publication Date:
January 3rd, 2023
Publisher:
Boynton Bookworks
Usually Ships in 1 to 5 Days
Description
Join a T. rex who loves playing peekaboo in this surprising board book from bestselling and beloved Sandra Boynton!
Follow a lovable T. rex throughout its day as it plays peekaboo with a tiny dinosaur friend. A story only Sandra Boynton could dream up, featuring two adorable dinos and every toddler's favorite hide-and-seek activity, the ending showcases the ultimate game of peekaboo!
Do you like games?
Come look inside.
PEEKABOO REX
will try to hide…
Praise for Peekaboo Rex! (Boynton on Board)
"A large dinosaur tries to outsmart a smaller companion when the duo play peekaboo together. The big dino naively believes they won't be noticed behind or under sundry hiding places, but the little pal always finds their playmate. Young listeners will giggle as the large dino attempts to outwit the little one, but in vain; in every instance, the diminutive, overalls-clad dino calls out a triumphant "Peekaboo!" ...In a display of good sportsmanship, the big dino concedes at the end the game was fun. The youngest audiences, all of whom will have likely engaged in marathon peekaboo sessions themselves, will undoubtedly scramble to play again...The illustrations are sweetly engaging; the round cutout on the front cover invites youngsters to play peekaboo games with adult partners and others."
— Kirkus Reviews