Discounted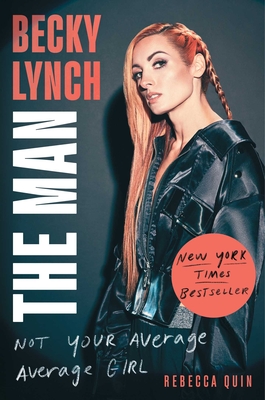 Becky Lynch: The Man: Not Your Average Average Girl
Previous price:

$28.99
Current price:

$27.99
Publication Date:
March 26th, 2024
Description
This compelling and deeply personal memoir from WWE superstar Rebecca Quin—a.k.a. The Man, a.k.a. Becky Lynch—delves into her earliest wrestling days, her scrappy beginnings, and her meteoric rise to fame.
By age seven, Rebecca Quin, now known in the ring as Becky Lynch, was already defying what the world expected of her. Raised in Dublin, Ireland in a devoutly Catholic family, Rebecca constantly invented new ways to make her mother worry—roughhousing with the neighborhood kids, hosting secret parties while her parents were away, enrolling in a warehouse wrestling school, nearly breaking her neck and almost kneecapping a WWE star before her own wrestling career even began—and she was always in search of a thrilling escape from the ordinary.
Rebecca's deep love of wrestling as a child set her on an unlikely path. With few female wrestlers to look to for guidance, Rebecca pursued a wrestling career hoping to change the culture and move away from the antiquated disrespect so often directed at the elite female athletes that grace the ring. Even as a teenager, she knew that she would stop at nothing to earn a space among the greatest wrestlers of our time, and to pave a new path for female fighters.
Culled from decades of journal entries, Rebecca's memoir offers a raw, personal, and honest depiction of the complex woman behind the character Rebecca Quin plays on TV.
Praise for Becky Lynch: The Man: Not Your Average Average Girl
"If you don't know why they call Becky Lynch 'the Man,' you will after reading this book. Becky is my friend, but I had no idea about her unreal journey. From immigrating from Ireland, to helping to orchestrate the ascension of women's wrestling, this is a must-read for any WWE fan but also for anyone with big dreams and odds stacked against them."
—Maria Menounos
"Quin's story is one of perseverance, humility, and raw emotion. Her authenticity allows us to feel her struggles and mature alongside her as the story unfolds. Anyone who's ever wondered what it takes and what it's like to become a WWE superstar will not be able to put this down. It might just be the new Underdog's Guide to the Galaxy. A trailblazer, a groundbreaker and a great example of my 3 favorite words…Never Give Up."
—John Cena
"The Man by Becky Lynch is one of the finest wrestling books—or memoirs of any kind—I have had the pleasure to read. Actually, it was equal parts, honor and pleasure; Becky allowed me in on the ground floor of her creative process, and I read with great joy as she found her voice as a writer. I am so glad she has chosen to share that voice and her remarkable life story with all of us."
—Mick Foley