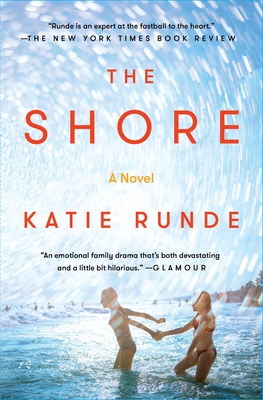 The Shore: A Novel
Publication Date:
May 30th, 2023
Good Neighbor Bookstore
2 on hand, as of Dec 9 8:07am
(Fiction)
On Our Shelves Now
Katie Runde's debut novel played my heartstrings like a harpsichord. I was yanked from my life to this beachside town and this kindhearted family's experiences with love, loss, and resilience! I am anxiously awaiting her next release.
June 2022 Indie Next List
Description
A mother and her two daughters spend a summer grappling with heartbreak, young love, and the weight of secrets in this "deeply felt family saga" (Entertainment Weekly) hailed as "one of the best beach reads of all time" (Today).
Brian and Margot Dunne live year-round in Seaside, just steps away from the bustling boardwalk, with their daughters Liz and Evy. The Dunnes run a real estate company, making their living by quickly turning over rental houses for tourists. But the family's future becomes precarious when Brian develops a brain tumor, transforming into an erratic version of himself. Amidst the chaos and new caretaking responsibilities, Liz still seeks out summer adventure and flirting with a guy she should know better than to pursue. Her younger sister Evy works in a candy shop, falls in love with her friend Olivia, and secretly adopts the persona of a middle-aged mom in an online support group, where she discovers her own mother's vulnerable confessions. Meanwhile, Margot faces an impossible choice driven by grief, impulse, and the ways that small-town life has shaped her. Falling apart is not an option, but she can always pack up and leave the beach behind.
"An emotional family drama...with endearing characters and deep insights" (Glamour), The Shore is a heartbreaking yet ultimately uplifting novel infused with humor about finding sisterhood, friendship, and love in a time of crisis. This big-hearted novel examines the grit and hustle of running a small business in a tourist town, the ways we connect with strangers when our families can't give us everything we need, and the comfort found in embracing the pleasures of youth while coping with unimaginable loss.
Praise for The Shore: A Novel
"Runde is an expert at the fastball to the heart. . . . The Shore is never sentimental; it is absorbing, lucid and true. Anyone who has lost someone by inches will recognize the struggle to push through despair and affirm the dogged endurance of love." —New York Times Book Review
"A novel about how a family contends with hardship and the ways we often flee from the people who know us best, The Shore is an emotional and authentic read." —Shondaland
"An emotional family drama [that's] both devastating and a little bit hilarious, and Runde pulls it off beautifully, with endearing characters and deep insights." —Glamour
"One of the best beach reads of all time . . . touching and gripping and life-affirming." —TODAY.com
"An engrossing escape. . . . Runde weaves poetry and poignant questions into her debut novel. It's an empathy-fueled exploration of caretaking and coming-of-age struggles." —NJ Monthly
"Filled with lovable characters and heart-wrenching moments . . . a powerful story of a family coming together to find comfort in the midst of crisis." —Woman's World
"Heartfelt and bittersweetly funny." —The New York Times Book Review, Editors' Choice
"A love story and valentine to the workers who keep the Jersey shore going." —Newark Star-Ledger 
"The Shore is not read but breathed, as life-affirming, natural and beautifully flawed as the world and emotions it embodies. Runde is a powerful, masterfully restrained writer, a keen interpreter of the human psyche . . . perfect for readers who enjoy—and have had their hearts broken and repaired by—Mary Beth Keane, Cara Wall and Ann Napolitano." —BookReporter
"A comforting debut on family and finding resilience in the face of sorrow." —Booklist
"Runde's debut is a heartbreaking family journey; a summer read that is at once sad, hopeful, frustrating, and ultimately uplifting." —Library Journal
"Vivid. . . . Runde's evocative descriptions conjure the salty humidity of the Jersey Shore. . . . this transportive work successfully captures the dissonance and resilience of family." —Publishers Weekly
"A tale of slowly revealed secrets and evocative sensory details of the Jersey Shore. . . . a vivid portrait." —BookPage
"Runde's sympathetic portrait of a family in crisis is not without humor and insight. . . . this family story is sweet, sad, and surprising." —Kirkus Reviews
"Locals and longtimers are forced to reckon with their families, choices, and secrets." —The Millions
"The Shore is a sharp and affecting novel, a wholly original exploration of what it means to love and lose set against a fabulously vibrant backdrop. Runde's writing is both deeply felt and deeply funny—often in the same breath." —Claire Lombardo, author of The Most Fun We Ever Had  
"The Shore was a joy to read. I loved the Dunnes from page one, and Katie Runde has so much to say about love and grief and growing up and the way we sometimes manage to learn who we are when we're in the midst of losing the person we love most." —Rachel Beanland, author of Florence Adler Swims Forever
"How can a novel be simultaneously a delicious page turner that transports the reader to warm seaside days while also being a deft, deep meditation on illness, grief, and loss? The Shore is both, and I wept over this tender family story of mother, father, daughters, interwoven with fine renderings of a summer town, a summer economy, and the people who make it go and who still call it home when the tourists leave. This is a lovely, expansive look at the hard work of caregiving, saying goodbye, and keeping on." —Lydia Kiesling, author of The Golden State
"A stunning anatomy of the varieties of sorrow and consolation, with a brilliant understanding of the ways different generations find unexpected common ground. Like Olive Kitteridge before it, The Shore takes a place bursting with colorful characters and its own idiosyncratic anthropology and makes it intimately familiar. Runde perfectly captures the fraught expressions of feeling between parents and children on the raucous eve of their independence, and she nails the way everyday longings, fears and joys don't always scurry from life's stage when the monster of grief descends from the rafters. The reader, under the spell of Runde's superb storytelling, never wants to leave this family behind." —Matthew Thomas, author of We Are Not Ourselves
"Runde's gift is a poetry of things: coffee cups and casseroles rush in to break your heart, expressing the truths about the anguish of love and loss that would melt like cotton candy into cliche if you tried to say them directly. The Shore is about the ugly, hard parts of loving someone, about the vacation town once the vacation is over, the awkwardness of growing up and the un-fun wisdom you learn to hold onto instead of push away. Tender, heartfelt and infinitely readable." —Rufi Thorpe, author of The Knockout Queen
"The Shore is everything I crave in a novel: characters who become like family, gorgeous prose, and a setting so vivid, you can almost smell the ocean and hear the boardwalk games. Katie Runde is a gifted writer and shows us how to bear the unimaginable in these pages. Readers will hate to leave Seaside behind." —Ethan Joella, author of A Little Hope