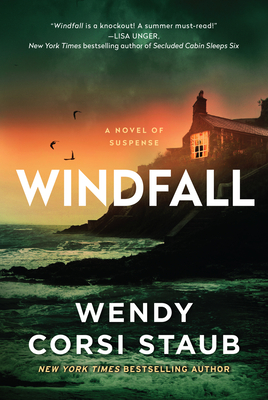 Windfall: A Novel of Suspense
Publication Date:
July 11th, 2023
Publisher:
William Morrow Paperbacks
Good Neighbor Bookstore
3 on hand, as of Dec 9 8:07am
(Mystery/Thriller)
On Our Shelves Now
Description
In this newest suspense novel from New York Times bestselling author Wendy Corsi Staub, three friends' lives terrifyingly unravel when they win a billion-dollar lottery jackpot—and one goes missing. Perfect for fans of novels like Taylor Adams' No Exit and The Club by Ellery Lloyd.
 It was the girls' weekend they'd never forget.
J.J., Molly, and Leila had once been inseparable, but it's been a long time since college, and life—not to mention distance—have disrupted the former roommates' friendship. When the three reunite for a birthday weekend in Las Vegas, the lottery ticket they buy on a whim has the winning numbers—giving them a billion-dollar windfall. Shell-shocked, they turn to Shea Daniels, a "sudden wealth manager," who promises to guide them through the pitfalls of having more money than they'd ever imagined.
It was the girls' weekend they'd live to regret.
The trio travels to a secluded California mansion, where Shea and her staff cater to their every whim, promising to teach them to navigate their newfound wealthy lifestyles with ease. The house is luxurious beyond their wildest dreams—and purportedly cursed, the last place a missing movie star was seen alive. Their weekend turns to terror when they discover they are trapped—roads blocked and communication disrupted by the wildfires raging around them. And when history repeats itself and one of them disappears—the one who's holding the billion-dollar ticket—the others must face the fact that either their friend has betrayed them…or a predator is lurking.
Praise for Windfall: A Novel of Suspense
"A winning lottery ticket, a haunted California mansion, and raging wildfires provide the tense and atmospheric backdrop for Wendy Corsi Staub's riveting and engrossing new thriller. I devoured this novel about the price of friendship and the things we'll do for love and money in one breathless sitting. Rocket-paced and full of unexpected twists, Windfall is a knockout! A summer must-read!" — Lisa Unger, New York Times bestselling author of Secluded Cabin Sleeps Six
"A tense and moving exploration of women's friendships and lives. Reading Windfall is like winning the lottery of suspense writing!" — Carol Goodman, New York Times bestselling and award-winning author of The Bones of the Story
"Compelling, atmospheric, and deliciously twisted. Suspense at its finest." — James L'Etoile, award-winning author of Dead Drop and the Detective Emily Hunter Series
"I couldn't turn the pages of Windfall fast enough in this twisty thriller that has it all – three friends who wrongly assumed they knew each other's secrets, a life-changing lottery ticket that could change their complicated lives for better (or worse), all in a Gothic setting on deadly cliffs shrouded by smoke from California wildfires. Nail biting, tense and rich – in more ways than one!" — Sarah Strohmeyer, bestselling author of We Love to Entertain
"Masterful and utterly compelling, Windfall is an examination of four scarred women, and how the dreamlike opportunity for them to escape the unique, richly layered complications of their lives is hardly an escape at all. Staub lands every aching and triumphant emotional moment she aims for and, as the novel rushes forward, delivers a masterclass in page-turning suspense. Destined to be revered by readers and studied by aspiring and experienced writers alike, Windfall is the work of an author at the top of her game, showcasing all of her considerable skills." — E.A. Aymar, bestselling author of No Home for Killers
"Wendy Corsi Staub is at with her best with Windfall, keeping the reader on edge to find out who really wins it all in life and whose luck has run out." — James Conrad, Golden Notebook Bookstore, Golden Notebook Press
"Great psychological suspense with a wallop of a twist." — Harlan Coben, #1 New York Times bestselling author, on The Other Family
"A twisty ride steeped in betrayal. The perfect winter read!" — J.D. Barker, New York Times bestselling author of A Caller's Game, on The Other Family
"Wendy Corsi Staub has always been one of my favorite writers, but she surpasses even her best work with The Other Family. A chilling and addictive novel of suspense, it also speaks deep truths about family ties—and how they can support or destroy us. I really loved this book." — Alison Gaylin, USA Today bestselling author
"Creepy families, big secrets, and lingering questions come together in this twisty page turner that will have you speed reading to try to figure it out." — Darby Kane, #1 international bestseller, on The Other Family
"Dark, twisty, and irresistible, The Other Family is domestic suspense turned up to 11, the gripping tale of one family's cross-country move to Brooklyn—and the explosive revelations that follow when one woman is finally forced to reckon with her past. From her pitch-perfect characterizations to her unerring sense of plot and pace, Wendy Corsi Staub displays a command of the form that's not merely masterful—it's practically diabolical." — Elizabeth Little, author of Pretty as a Picture