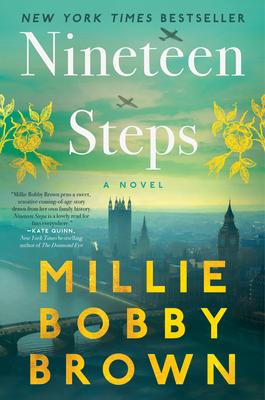 Nineteen Steps: A Novel
Publication Date:
September 12th, 2023
Publisher:
William Morrow
Usually Ships in 1 to 5 Days
Description
The New York Times bestseller from iconic Emmy-nominated actress and producer MILLIE BOBBY BROWN: Nineteen Steps
"My inner history-loving teenage geek clapped her hands in ecstasy at the thought of a historical novel penned by Enola Holmes, and she wasn't disappointed!"—Kate Quinn
Love blooms in the darkest days…
It's 1942, and air raid sirens continue to wail around London. Eighteen-year-old Nellie Morris counts every day lucky that she emerges from the underground shelters unharmed, her loving family still surrounding her.
After a chance encounter with Ray, an American airman stationed nearby, Nellie becomes enchanted with the idea of a broader world. Just when Nellie begins to embrace an exciting new life with Ray, a terrible incident occurs during an air raid one evening, tearing Nellie's world is torn apart. But just when it seems all hope is lost, Nellie finds that, against all odds, love and happiness can triumph.
Nineteen Steps is a deeply affecting, mesmerizing page-turner inspired by the author's family history. An epic story of longing, loss, and secrets, Millie Bobby Brown's propulsive debut introduces an unforgettable, brave young woman and boldly portrays the strength in the power of love.
"Inspired by my Nanny Ruth, this book is very personal and close to my heart. I grew up listening to stories about her time living through the war. I'm honored to keep her story alive."—Millie Bobby Brown
Praise for Nineteen Steps: A Novel
"Valuable… There is no healing without remembering, and there is no remembering without stories. So thank goodness Brown's Nanny Ruth, who was a survivor of the crush, told her granddaughter what she remembered… You might open Nineteen Steps for the celebrity name, but stick with it for the history of an under-recognized event of World War II."                                                 — New York Times Book Review
"The book is really about making your way when consumed by grief. And in that aspect it succeeds, painting a brave portrait of Nellie and her family and friends as they struggle to survive and find happiness in a world gone mad… [Brown's] late, beloved grandmother would assuredly be proud of this first effort." — Associated Press
"Millie Bobby Brown may be best known for taking down Demogorgons in Stranger Things and solving impossible cases as Enola Holmes, but the actress establishes herself as an equally powerful writer with her poignant debut novel Nineteen Steps. Inspired by true events from her family history…Brown refuses to shy away from the realities of war in her coming-of-age story, exploring love, loss, and courage in a way that is both bold and intensely moving." — Entertainment Weekly
"[An] emotionally layered debut… Brown's narrative, which is based on real events, effectively balances the danger and deprivations of war in a city under siege with the joys of family, friends, and romance. This highly charged historical romance offers intimate insight into WWII London and the challenges of overcoming loss." — Publishers Weekly
"My inner history-loving teenage geek clapped her hands in ecstasy at the thought of a historical novel penned by Enola Holmes, and she wasn't disappointed! Dreamer Nellie Morris spends her days typing and her nights sheltering from the German bombers screaming overhead, imagining a bigger world beyond her East End London roots—and a burgeoning romance with an American airman offers hope beyond the end of the war. But one terrible night at the nearby air raid shelter tears Nellie's world apart and she must find the courage to make a new life from the wreckage. Millie Bobby Brown pens a sweet, sensitive coming-of-age story drawn from her own family history—Nineteen Steps is a lovely read for fans everywhere." — Kate Quinn, New York Times bestselling author of The Diamond Eye
"In this remarkable debut, Brown brings to life an unfamiliar—and shocking—tragedy that took place during World War II in London's East End. Supported by a rich cast of characters, her tale of first love, poignant regrets, and the search for truth makes for a spellbinding read. Enthralling."  — Fiona Davis, New York Times bestselling author of The Spectacular
"Centered around a real-life historical event that counts as the UK's largest loss of civilian life during the Second World War, Nineteen Steps shines a brilliant light on a dark moment in history. Actress and UNICEF Goodwill Ambassador Millie Bobby Brown soars in her debut novel, bringing to life the joy and heartache of wartime England, as well as the visceral terror that came with frequent German bombings over London. Full of heartbreak and hope, and overflowing with vibrant characters you'll root hard for, Nineteen Steps will plunge you into the 1940s East End and will stay in your heart for a long time to come."  — Kristin Harmel, New York Times bestselling author of The Paris Daughter
"Heartfelt and warm, with quietly heroic characters that embody the innocence of first love and wartime patriotism, Brown's debut is sure to be popular among readers who enjoy novels that bring lesser-known notable events from the past to life." — Booklist