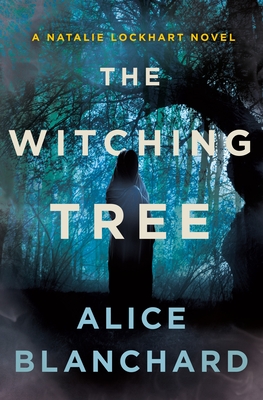 The Witching Tree: A Natalie Lockhart Novel
Publication Date:
December 7th, 2021
Publisher:
Minotaur Books
Description
Welcome to Burning Lake, a small, isolated town with a dark history of witches and false accusations. Now, a modern-day witch has been murdered, and Detective Natalie Lockhart is reluctantly drawn deep into the case, in this atmospheric mystery from Alice Blanchard, The Witching Tree.
As legend has it, if you carve your deepest desire into the bark of a Witch Tree, then over time as the tree grows, it will swallow the carvings until only a witch can read them.
Until now.
Detective Natalie Lockhart gained unwanted notoriety when she and her family became front and center of not one, but two sensational murder cases. Now she's lost her way. Burned out and always looking over her shoulder, Natalie desperately thinks that quitting the police force is her only option left.
All that changes when a beloved resident—a practicing Wiccan and founder of the town's oldest coven—is killed in a fashion more twisted and shocking than Natalie has ever seen before, leaving the town reeling. Natalie has no choice but to help solve the case along with Detective Luke Pittman, her boss and the old childhood friend she cannot admit she loves, even to herself. There is a silent, malignant presence in Burning Lake that will not rest. And what happens next will shock the whole town, and Natalie, to the core.
Praise for The Witching Tree: A Natalie Lockhart Novel
"The novel captivated me from the beginning to its shocking finish. Wow!" --Mystery and Suspense
"Though readers may fear Burning Lake, they also won't want to leave. " --Bookpage

Praise for The Wicked Hour:
"Jodi Picoult's fans will be an apt audience for Blanchard's chilling latest." - Booklist

"For fans of Erica Spindler." - Library Journal
Praise for Trace of Evil:
"Readers will welcome a return to Burning Lake with Natalie at the helm."—Associated Press
"Lockhart is a relatable new heroine on the police-procedural scene, and one who will appeal to readers of Tana French."—Booklist
"A fast-paced, intricate, and atmospheric mystery that introduces a plucky, engaging detective." - Kirkus Review
"Flush with red herrings, Wiccan symbols, and disaffected teens, this book will appeal to fans of criminal investigations led by empowered women." - Publishers Weekly

"What seems an open-and-shut case becomes much more, with Blanchard carefully peeling away layers of history and deception before pulling off a shocking twist. Lockhart is a relatable new heroine on the police-procedural scene, and one who will appeal to readers of Tana French." - Booklist
"A powerful and unexpected denouement. I look forward to reading more in the series." – New York Times bestselling author Ann Cleeves
"[A] tense, nail-biter of a thriller!" - J.D. Barker, International Bestselling Author of The Fourth Monkey
"Alice Blanchard seems to be able to write just about anything she wants [and] shows off a veteran storyteller at the peak of her powers." – New York Times bestselling author Jacquelyn Mitchard, author of Two If By Sea and The Deep End of the Ocean
"A tantalizing mystery with just the right amount of unsettling horror woven in." Neal Griffin, LA Times best-selling author of the Newberg series
"Layered with old wounds, new secrets, and tension that starts on the first page and never lets up." —Kristen Lepionka, Shamus Award-winning author of the Roxane Wearymystery series
"Moody and atmospheric [...] the kind of tale that lingers long after you've raced through its twists and turns to the utterly gripping finale." – Owen Laukkanen, award-winning author of the Stevens & Windermere novels