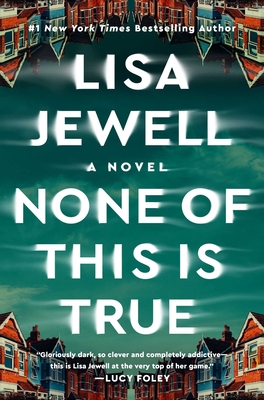 None of This Is True: A Novel
Publication Date:
August 8th, 2023
Good Neighbor Bookstore
1 on hand, as of Dec 9 8:07am
(Mystery/Thriller)
On Our Shelves Now
None of This Is Trueis the best Lisa Jewell yet. The action is nonstop and builds suspense from the first page. You think you have it figured out, then she wows you. She's outdone herself on this one.
August 2023 Indie Next List
Description
INSTANT NEW YORK TIMES BESTSELLER
From the #1 New York Times bestselling author known for her "superb pacing, twisted characters, and captivating prose" (BuzzFeed), Lisa Jewell returns with a scintillating new psychological thriller about a woman who finds herself the subject of her own popular true crime podcast.
Celebrating her forty-fifth birthday at her local pub, popular podcaster Alix Summer crosses paths with an unassuming woman called Josie Fair. Josie, it turns out, is also celebrating her forty-fifth birthday. They are, in fact, birthday twins.
A few days later, Alix and Josie bump into each other again, this time outside Alix's children's school. Josie has been listening to Alix's podcasts and thinks she might be an interesting subject for her series. She is, she tells Alix, on the cusp of great changes in her life.
Josie's life appears to be strange and complicated, and although Alix finds her unsettling, she can't quite resist the temptation to keep making the podcast. Slowly she starts to realize that Josie has been hiding some very dark secrets, and before she knows it, Josie has inveigled her way into Alix's life—and into her home.
But, as quickly as she arrived, Josie disappears. Only then does Alix discover that Josie has left a terrible and terrifying legacy in her wake, and that Alix has become the subject of her own true crime podcast, with her life and her family's lives under mortal threat.
Who is Josie Fair? And what has she done?
Praise for None of This Is True: A Novel
"The book's unreliable narrator, dark twists and unending suspense will keep you on edge until the very last page." —NPR
"If you liked Verity by @colleenhoover, I think you'll like this one!" —EMILY HENRY, New York Times bestselling author
"Gloriously dark, so clever and completely addictive - this is Lisa Jewell at the very top of her game. This book kept me up reading late into the night and haunted my dreams!" —LUCY FOLEY, New York Times bestselling author of The Paris Apartment
"This novel is one of Jewell's best: a gloriously dark, glittering creepfest..." —AMAZON BOOK REVIEW
"Lisa Jewell is on top-form with this pitch-black fever dream of a book - darker, twistier and more compelling than ever." —RUTH WARE, New York Times bestselling author of The It Girl 
"A moody, slippery novel where nobody is as they seem. As breathtaking story is revealed within story, readers peel back the layers to find revenge, a meditation on the damage done by the past, and characters who could walk into the room and sit on your sofa. Here Jewell cements her position as queen of character-led fiction." —GILLIAN MCALLISTER, New York Times bestselling author of Wrong Place, Wrong Time
"Gloriously dark and twistier than a twisty thing." —JOJO MOYES, New York Times bestselling author of Someone Else's Shoes
"I adore Lisa Jewell, and this is her best yet. I adored the unreliable characters, their dark secrets, the fateful collision of their two different worlds in the same corner of London. I simply could not leave it alone, and had to keep reading until I'd reached the heart-stopping conclusion. Utterly irresistible from the very first page." —KATHERINE FAULKNER, author of Greenwich Park 
"None of This Is True is so suspenseful, so smart, so insightful. It's all three, in equal measure, all the way through. I loved the theme of family in all its glorious (and sometimes soul-destroying) forms. Lisa Jewell writes her characters with such emotional intelligence and generosity that I cared about all of them...she takes the most universal observation and tosses it in very lightly at the end of a funny sentence—and it truly takes my breath away. So much of this novel will stay in my mind forever and that's a tremendous gift." —KATHERINE HEINY, author of Early Morning Riser