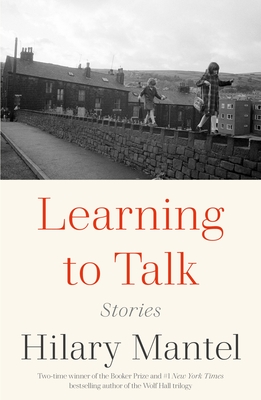 Learning to Talk: Stories
Publication Date:
June 21st, 2022
Publisher:
Henry Holt and Co.
Good Neighbor Bookstore
3 on hand, as of Nov 28 2:37pm
(Writing)
On Our Shelves Now
Description
A dazzling collection of short stories from the two-time winner of the Booker Prize and #1 New York Times bestselling author of the Wolf Hall trilogy.
In the wake of Hilary Mantel's brilliant conclusion to her award-winning Wolf Hall trilogy, Learning to Talk is a collection of loosely autobiographical stories that locates the transforming moments of a haunted childhood.
Absorbing and evocative, these drawn-from-life stories begin in the 1950s in an insular northern village "scoured by bitter winds and rough gossip tongues." For the young narrator, the only way to survive is to get up, get on, get out. In "King Billy Is a Gentleman," the child must come to terms with the loss of a father and the puzzle of a fading Irish heritage. "Curved Is the Line of Beauty" is a story of friendship, faith and a near-disaster in a scrap-yard. The title story sees our narrator ironing out her northern vowels with the help of an ex-actress with one lung and a Manchester accent. In "Third Floor Rising," she watches, amazed, as her mother carves out a stylish new identity.
With a deceptively light touch, Mantel illuminates the poignant experiences of childhood that leave each of us forever changed.
"A book of her short stories is like a little sweet treat...Mantel's narrators never tell everything they know, and that's why they're worth listening to, carefully." —USA Today
"Her short stories always recognize other potential realities...Even the most straightforward of Mantel's tales retain a faintly otherworldly air." —The Washington Post
Praise for Learning to Talk: Stories
Praise for Learning to Talk
"Part of her consistent brilliance lies in her attention to ghosts and mortgages, the light on the moors and 1980s educational policy, adolescent self-discovery and irregular accounting. These stories hold worlds as wide as those of her longest novels."
—Sarah Moss, The New York Times Book Review
"Those who've delighted for decades in Mantel's fiction revel in her chameleonlike facility with language, her ability effortlessly to evoke wildly diverse characters, settings, and atmospheres . . . . The stories here enable us the more fully to appreciate Mantel's wide-ranging gifts . . . . The overall effect of the collection is of a palimpsest, the powerfully atmospheric evocation of an unhappy mid-twentieth-century childhood in northern England."
—Claire Messud, Harper's Magazine
"It's a testament to Mantel's brilliance as an author that even though the moments in these stories are subtle, the book somehow feels epic in its own way…And the result is magnificent. Learning to Talk is a lovely book, quiet but intense in its own way, and it proves—once again—that Mantel is one of the finest English-language authors working today."
—NPR
"Mantel brings England alive, writing with detail and intellect."
—Time
"Elegant, pitch-perfect sentences…Here is a writer who can do anything, anytime, anywhere."
—Oprah Daily
"Although best known for her long novels, Mantel has also excelled at short, intensely atmospheric books…and here that economy shines, as when she homes in on the telling detail with surgical precision…Mantel was born a poor Northern girl, but she was raised to be a writer who would destroy kingdoms."
—The Boston Globe
"Wish Mantel's Wolf Hall (award-winning, bestselling trilogy) had never come to an end? You'll enjoy her new collection of short stories."
—CNN
"Puts all of the author's skill and style on display."
—Town & Country
Praise for Books by Hilary Mantel

"She is our literary Michelangelo."
—O, The Oprah Magazine
"Every page is rich with insight...soul-deep characterization and cutting observational skill."
—USA Today
"Deep, suspenseful, chewy, complex and utterly transporting—truly a full banquet."
—Elizabeth Gilbert, Wall Street Journal Magazine
"Sumptuous prose."
—The New Yorker
"A treasure on every page."
—The Times (UK)
"Majestic and often breathtakingly poetic…the writing comes as close to poetry as prose ever may."
—Simon Schama, Financial Times