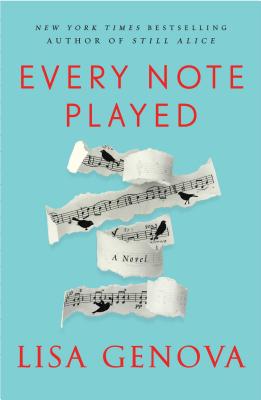 Every Note Played
Publication Date:
March 20th, 2018
Publisher:
Gallery/Scout Press
Good Neighbor Bookstore
1 on hand, as of Sep 30 5:52am
(Fiction)
On Our Shelves Now
In a tightly composed piece of writing, novelist Lisa Genova carries the reader through the grim melody and turbulent sequencing of ALS while expertly relaying the gradual impact of the disease on the lives of patients and caregivers. With medical details balanced against the raw manifestation of the human experience, Every Note Played explores the cruel effects of loss and the profound effects of compassion and forgiveness. Richard and Karina are voluntarily alone, yet uncomfortably united by a sense of need and duty. Genova holds nothing back, producing a story that resonates with meaning and builds to a keen point of understanding.
April 2018 Indie Next List
Description
"Unsparing in her depiction of the disease's harrowing effects, neuroscientist Genova also celebrates humanity." —People
"Sometimes it's easier to tell truth in fiction…And she tells it with heart and hope." —NPR
"Her juxtaposition of scientific detail with compassionate, heartfelt storytelling is unparalleled." —Bookreporter
"Every Note Played will grip and gut you." —The Boston Globe
From neuroscientist and New York Times bestselling author of Still Alice comes a powerful exploration of regret, forgiveness, freedom, and what it means to be alive.
An accomplished concert pianist, Richard received standing ovations from audiences all over the world in awe of his rare combination of emotional resonance and flawless technique. Every finger of his hands was a finely calibrated instrument, dancing across the keys and striking each note with exacting precision. That was eight months ago.
Richard now has ALS, and his entire right arm is paralyzed. His fingers are impotent, still, devoid of possibility. The loss of his hand feels like a death, a loss of true love, a divorce—his divorce.
He knows his left arm will go next.
Three years ago, Karina removed their framed wedding picture from the living room wall and hung a mirror there instead. But she still hasn't moved on. Karina is paralyzed by excuses and fear, stuck in an unfulfilling life as a piano teacher, afraid to pursue the path she abandoned as a young woman, blaming Richard and their failed marriage for all of it.
When Richard becomes increasingly paralyzed and is no longer able to live on his own, Karina becomes his reluctant caretaker. As Richard's muscles, voice, and breath fade, both he and Karina try to reconcile their past before it's too late.
Poignant and powerful, Every Note Played is a masterful exploration of redemption and what it means to find peace inside of forgiveness.
Praise for Every Note Played
"Genova is far more serious and readable, concerned as much with depicting the clinical realities of ALS as in wringing it for emotional catharsis. You might drop a few tears reading Every Note Played but you won't feel bullied into doing so."
—The Wall Street Journal
"Only Lisa Genova could bring such honesty and grace to the war against ALS. Searing writing and a must-read." 
—Helen Simonson, New York Times bestselling author of Major Pettigrew's Last Stand
 
"Genova captivates. Gut-wrenching but suspenseful reading… Both substantively informative about ALS and an emotionally wrenching psychological portrait."
—Publishers Weekly
"[A] gripping novel… Unsparing in her depiction of the disease's harrowing effects, neuroscientist Genova also celebrates humanity and the rewards of asking for, and offering, forgiveness."
—PEOPLE
"Lisa Genova writes with humor and humanity but also with a scientist's eye about the daily depredations of disease, the incremental losses, the slower acceptances, the rage, the love, the courage, and strangely enough, the joy. A nocturne of the soul. Read this book, read it all night, and wake up glad to alive."  
—Bill Roorbach, author of Life Among Giants, The Remedy for Love, and The Girl of the Lake.
"Lisa Genova's brilliant Every Note Played stapled me to the couch. Written with vivid honesty about the realities of ALS, for both patient and family, this novel goes far beyond drama or education—though Genova provides both. The powerful compassion in this book placed it on that rare list: one of the books I'll remember forever."
—Randy Susan Meyers, author of The Widow of Wall Street
"Sometimes it's easier to tell truth in fiction. Lisa Genova has made a career of it... She tells the tale of a piano virtuoso whose body begins to slowly weaken and fail due to the devastating disease. And she tells it with heart and hope."
—Kimberly Atkins, On Point
"At turns beautiful and brutal, Lisa Genova crafts a realistic and heartrending portrayal of a couple's failed marriage in the midst of the husband's battle with ALS. The emotions and intimacy conveyed are difficult to read, but impossible to ignore." 
—BookBub
"Her juxtaposition of scientific detail with compassionate, heartfelt storytelling is unparalleled... [I]n true Genova fashion, Every Note Played is as full of hope as it is of heartbreak."
—BookReporter
"Somewhere Reese Witherspoon is learning how to pretend to play the piano, because I can easily see her starring in a film adaptation of this tug-on-the-heart-strings novel."
—Amazon Book Review
"Genova's latest is one of her strongest—more internalized… an eloquent and touching imagining of how a peaceful terminal place might be reached."
—Kirkus Reviews
"Genova expertly details the devastation ALS wreaks on Richard, and though her latest is a sometimes difficult read, she finds hope in the opportunities Richard has to repair his relationships with his daughter and brothers before it's too late." 
—Booklist
"What's amazing about her newest novel, Every Note Played, is what is amazing about all of Genova's books. She is both the neuroscientist and the actor when she writes. She tells not only the story of a person struck down by some disease. She tells the story of the disease, too. And you learn this way. But it never feels like learning."
—The Boston Globe
"An expertly written depiction of the toll a ravaging disease takes on both the body and the heart."
—Marie Claire
"This book is especially remarkable because as a neuroscientist, author Lisa Genova has keen insight into the realities of ALS."
—Bustle
"[Lisa Genova] delivers another gripping journey through a dread disease in Every Note Played. This time she trains her masterful storytelling skills on ALS as it plays out in a fractured family… deft phrasing eases the reader's passage through a story that can't end happily."
—Minneapolis Star Tribune
"Genova expertly explores regret, guilt and forgiveness as we witness the progression of this deadly disease."
—BookTrib
"Genova unsparingly details the tragedy of ALS. But she includes the beauty and joy of Richard and Karina's lives in music, balancing the horrific with the uplifting. Every Note Played is the story of a marriage, as well as a hard-hitting primer on a disease."
—Shelf Awareness, starred review