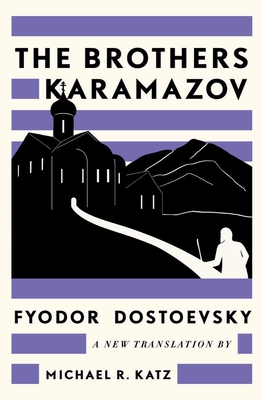 The Brothers Karamazov: A New Translation by Michael R. Katz
Publication Date:
July 25th, 2023
Good Neighbor Bookstore
2 on hand, as of Dec 9 8:07am
(Literature)
On Our Shelves Now
Description
New Yorker • Best Books of 2023
"Lively, fast-flowing.... the voiciest translation of the novel thus far. [Katz] writes at the fever pitch of speech, unleashing the speed and the chaos of the original." —Jennifer Wilson, The New Yorker
A monumental new translation—the first in more than twenty years—of Russia's greatest family drama, rendered with all the passion, humor, and soul of the original.
Dostoevsky's final, greatest novel, The Brothers Karamazov, paints a complex and richly detailed portrait of a family tormented by its extraordinarily cruel patriarch, Fyodor Pavlovich, whose callous decisions slowly decimate the lives of his sons—the eponymous brothers Karamazov—and lead to his violent murder. In the aftermath of the killing, the brothers contend with dilemmas of honor, faith, and reason as the community closes in on the murderer in their midst. Acclaimed translator Michael R. Katz renders this masterpiece's nuanced and evocative storytelling in a vibrant, signature prose style that captures all the power of Dostoevsky's original—the clever humor, the rich emotion, the passion and the turmoil—and that will captivate and unsettle a new generation of readers.
Praise for The Brothers Karamazov: A New Translation by Michael R. Katz
In 'The Brothers Karamazov,' now available in a lively, fast-flowing new translation by Michael Katz (Liveright), Dostoyevsky blended the family novel with the whodunnit, revealing the capaciousness of the novel as a form and the power of blood as a metaphor . . . [Katz's] is, by my estimation, the voiciest translation of the novel thus far. He writes at the fever pitch of speech, unleashing the speed and the chaos of the original.
— Jennifer Wilson - The New Yorker
This book weighs about two pounds, but I found it light. The writing is good and clear; fuss has been eliminated. Katz's lucid, unpretentious language opens up my favourite scenes, characters and even monologues.
— Lan Samantha Chang - The Guardian
In Michael R. Katz's new translation, Dostoevsky's irony is more noticeable than in previous English language versions, which tended to muffle the humor. Katz's rendering in plain, contemporary English sets the Russian author's satire in high relief . . . The paradoxical nature of personal and social life, marked by outbursts of kindness and destruction and long stretches of just muddling along, has seldom been as brilliantly described.
— David Luhrssen - Shepherd Express