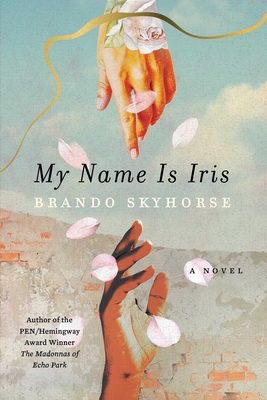 My Name Is Iris: A Novel
Publication Date:
August 1st, 2023
Publisher:
Avid Reader Press / Simon & Schuster
Good Neighbor Bookstore
2 on hand, as of Dec 9 8:07am
(Fiction)
On Our Shelves Now
Description
"Brilliant." —The Washington Post * "Nuanced and compelling." —The New York Times
From the PEN/Hemingway Award–winning author of The Madonnas of Echo Park, an engrossing dystopian novel set in a near-future America where mandatory identification wristbands turn second-generation immigrants into second-class citizens—"a well-imagined allegory of divisive racial politics" (Kirkus Reviews).
Iris Prince is starting over. After years of drifting apart, she and her husband are going through a surprisingly drama-free divorce. She's moved to a new house in a new neighborhood, and has plans for gardening, coffee clubs, and spending more time with her nine-year-old daughter Melanie. It feels like her life is finally exactly what she wants it to be.
Then, one beautiful morning, she looks outside her kitchen window—and sees that a wall has appeared in her front yard overnight. Where did it come from? What does it mean? And why does it seem to keep growing?
Meanwhile, a Silicon Valley startup has launched a high-tech wrist wearable called "the Band." Pitched as a convenient, eco-friendly tool to help track local utilities and replace driver's licenses and IDs, the Band is available only to those who can prove parental citizenship.
Suddenly, Iris, a proud second-generation Mexican American, is now of "unverifiable origin," unable to prove who she is, or where she, and her undocumented loved ones, belong. Amid a climate of fear and hate-fueled violence, Iris must confront how far she'll go to protect what matters to her most.
"Part social commentary and part thoughtful consideration of themes that include family, identity, transitions, perspectives, and hope" (Shelf Awareness), My Name Is Iris is an all-too-possible story that offers a brilliant and timely look at one woman's journey to discover who she can't—and can—be.
Praise for My Name Is Iris: A Novel
"My Name Is Iris offers a sharp vision of how racism gets imbibed by its victims like a sweet poison. . . . Could there be a more incisive diagnosis of our era? . . . As Skyhorse's clever satire accelerates into a truly terrifying thriller, the most insidious functions of racism appear illuminated in an eerie new light. . . . Brilliant."
—Ron Charles, The Washington Post
"Nuanced and compelling . . . It was satisfying to read about a demographic so often invisible, to see a community brought into focus through a woman with an inner life that is layered, confusing, and at times unflattering. Narratives like this are rare, and I was grateful for it."
—Erika L. Sánchez, New York Times
"A chilling near-reality dystopian novel . . . My Name Is Iris is part social commentary and part thoughtful consideration of themes that include family, identity, transitions, perspectives, and hope. In addition to being an engrossing, discomfiting tale, this will make an excellent book club selection and fuel for tough conversations."
—Shelf Awareness
"Skyhorse's satirical eye is sharp. . . . He cultivates an engrossing Kafkaesque atmosphere across the novel. A well-imagined allegory of divisive racial politics."
—Kirkus Reviews
"Any new book by Brando Skyhorse is a cause for celebration. My Name Is Iris is rich and full of heart and emotion. This is the work of a lifetime of experience, and you will not forget his characters."
—Luis Alberto Urrea, author of The House of Broken Angels
PRAISE FOR OTHER BOOKS BY BRANDO SKYHORSE
* Take This Man: A Memoir *
"Hilarious and deeply moving . . . This is a wild read that will move you to tears and laughter simultaneously."
—NBC News
"A searingly funny and fearless book . . . written with such velocity and stark recollection that it feels as if the author is writing to save his life . . . Take This Man should be on the same shelf with Tobias Wolff's This Boy's Life, or maybe it should occupy an off-tilt, splintered shelf of its own. . . . [It] would make a terrific movie, if that weren't an undignified thing to say about such a fine literary work. I say this because Skyhorse's writing has such vivid immediacy, beautifully drawn scenes, and cameo appearances by all sorts of unusual, memorable characters. . . . A tour-de-force."
—The Washington Post
"Skyhorse has a fascinating story to tell, and he tells it with the skill and sway of a novelist. . . . It's a story that's almost too big to be true. Yet it reveals so much that's universal, about human longing and belonging, about the endless capacity we have to betray and rescue ourselves and the people we love."
—San Francisco Chronicle
"Skyhorse's memoir is a West Coast version of Augusten Burroughs' Running With Scissors. . . . A funny, shocking, generous-hearted book."
—Entertainment Weekly
"Top this: Skyhorse grew up poor in a claustrophobic 1980s Echo Park home with a Chicana mother who pretended they were Native American, a bisexual grandmother who pretended she was straight, and five no-account stepfathers who each got out when the getting was no longer good. . . . Skyhorse really is a star, transcending a wack-ball family and a then-sketchy neighborhood to become a gifted writer. . . . Skyhorse's last page works so well, it gilds the rest of the book in a sweet, retroactive glow. Sometimes a book catches you in a weak moment, so I went back to read the scene a few weeks later, just to make sure. Knowing what was coming made it only better."
—Los Angeles Times
"Take This Man is earnest and searching, genuinely interested in exploring the complex arrangement that we call family.... [with] exquisite prose, but also a mature acknowledgment of the complex nature of memory, longing, love, and disappointment."
—The Los Angeles Review of Books
"A wickedly compelling account of a dysfunctional childhood. By turns funny and wrenching, the narrative is an unforgettable tour de force of memory, love, and imagination."
—Kirkus Reviews (Starred Review)
* The Madonnas of Echo Park: A Novel *
Winner of the Pen/Hemingway Award and the Sue Kaufman Prize for First Fiction
"Skyhorse is at his best when exploring the changing world of Echo Park. . . . His careful attention to detail, to a rich past of a place that served as home to Mexican Americans already once displaced from Chavez Ravine, is thoroughly researched and executed—no easy feat while juggling multiple characters and timeframes. . . . The focus on Mexican American characters is admirable."
—Los Angeles Times
"To embrace a community, to capture its fabric, to syncopate its rhythms, lives, views, and experiences is a difficult feat. But Brando Skyhorse manages to do just that with his breathtaking and, at times, soul-churning novel. . . . Skyhorse [finds] breadth and diversity in Echo Park. . . . Stories zigzag through the book, introducing lives unique and full, bisecting one another at times, standing at solitary edges at others. . . . We are carried away by this intricately crafted tale. Taken together, the tales spin around the axis of a few streets yet splinter off into infinite dimensions."
—Chattanooga Times Free Press
"Rich and textured . . . As the intricate tale unwinds, we're offered glimpses of eight residents, whose ordinary, working-class lives intersect under often extraordinary circumstances. . . . Skyhorse propels the reader through the novel at a breakneck pace. And in each section, readers are rewarded with a deeper layer, and a new connection, that enriches the plot. . . . Skyhorse uses elegant prose and vivid storytelling to tackle questions surrounding culture, belonging, and identity that haunt every immigrant community."
—Christian Science Monitor