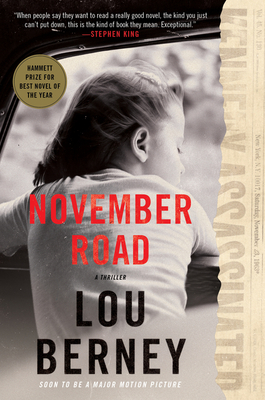 November Road: A Thriller
Publication Date:
October 22nd, 2019
Publisher:
William Morrow Paperbacks
Good Neighbor Bookstore
2 on hand, as of Jun 4 12:37pm
(Historical Fiction)
On Our Shelves Now
Lou Berney's engrossing novel November Road unfolds in the immediate aftermath of JFK's assassination, but the heady confusion and shock of that dark day play second fiddle to the stories of Frank Guidry and Charlotte Roy, two desperate individuals seeking to outrun the entanglements of their very different lives. Guidry, a once-trusted player for the Marcello mob, is a marked man fleeing for his life; Roy, a weary housewife, seeks better prospects for herself and her daughters, so she must escape from both her dead-end town and deadbeat husband. Told in sharp, cinematic prose, this novel explodes the boundaries of the typical crime novel and offers up something more literary, a finely tuned exploration of the will to change.
October 2018 Indie Next List
Set amid the tumult of the Kennedy assassination, November Road weaves a complex story of unexpected connection and self-preservation. Made man meets unmade marriage in this taut road-trip crime novel. Berney's sensitive exploration of character and grisly depiction of a life of crime are both showcased here, and the result is one of the best crime novels and surprisingly tender stories of the season.
Winter 2019 Reading Group Indie Next List
Description
"When people say they want to read a really good novel, the kind you just can't put down, this is the kind of book they mean. Exceptional." —STEPHEN KING

"Berney's emotional, empathetic writing keeps . . . the pages turning." —ENTERTAINMENT WEEKLY, "Required Reading"
NAMED A BEST BOOK OF THE YEAR BY Entertainment Weekly • Washington Post • AARP • Newsweek • Dallas Morning News • South Florida Sun-Sentinel • Chicago Public Library • Real Book Spy • CrimeReads • Litreactor • Library Journal • LitHub • Booklist
Winner of the Barry, Macavity, and Anthony Awards, the Hammett Prize, the Left Coast Crime "Lefty" Award for Best Mystery Novel, the Oklahoma Book Award for Best Fiction Novel, and the CWA Ian Fleming Steel Dagger award for Best Thriller Novel!
Set against the assassination of JFK, a poignant and evocative crime novel that centers on a desperate cat-and-mouse chase across 1960s America—a story of unexpected connections, daring possibilities, and the hope of second chances from the Edgar Award-winning author of The Long and Faraway Gone.
Frank Guidry's luck has finally run out.
A loyal street lieutenant to New Orleans' mob boss Carlos Marcello, Guidry has learned that everybody is expendable. But now it's his turn—he knows too much about the crime of the century: the assassination of President John F. Kennedy.
Within hours of JFK's murder, everyone with ties to Marcello is turning up dead, and Guidry suspects he's next: he was in Dallas on an errand for the boss less than two weeks before the president was shot. With few good options, Guidry hits the road to Las Vegas, to see an old associate—a dangerous man who hates Marcello enough to help Guidry vanish.
Guidry knows that the first rule of running is "don't stop," but when he sees a beautiful housewife on the side of the road with a broken-down car, two little daughters and a dog in the back seat, he sees the perfect disguise to cover his tracks from the hit men on his tail. Posing as an insurance man, Guidry offers to help Charlotte reach her destination, California. If she accompanies him to Vegas, he can help her get a new car.
For her, it's more than a car— it's an escape. She's on the run too, from a stifling existence in small-town Oklahoma and a kindly husband who's a hopeless drunk.
It's an American story: two strangers meet to share the open road west, a dream, a hope—and find each other on the way.
Charlotte sees that he's strong and kind; Guidry discovers that she's smart and funny. He learns that's she determined to give herself and her kids a new life; she can't know that he's desperate to leave his old one behind.
Another rule—fugitives shouldn't fall in love, especially with each other. A road isn't just a road, it's a trail, and Guidry's ruthless and relentless hunters are closing in on him. But now Guidry doesn't want to just survive, he wants to really live, maybe for the first time.
Everyone's expendable, or they should be, but now Guidry just can't throw away the woman he's come to love.
And it might get them both killed.
Praise for November Road: A Thriller
"Nothing less than an instant American classic. Haunting, thrilling—and indelible as a scar." — A. J. Finn, #1 New York Times bestselling author
"This superior novel from Edgar winner Lou Berney melds crime fiction with a tale about people reinventing themselves, played out during a cross-country automobile trip.… An emotional story about the power of love and redemption through sacrifice with the backdrop of a crucial historical moment." — Associated Press
"Lou Berney has quickly become one of crime fiction's stand-outs, a quietly subversive writer who can surprise the most jaded readers. November Road delivers everything we have come to expect from him -- and then some."  — Laura Lippman, New York Times bestselling author
"November Road is a remarkable and unforgettable reading experience... You will recommend it to friends. You will read it again. Berney is a writer to be read and admired. This is a staggeringly brilliant book and a flat-out terrific read." — Don Winslow, New York Times Bestselling Author, on November Road
"When people say they want to read a really good novel, the kind you just can't put down, this is the kind of book they mean. Exceptional." — Stephen King on November Road
"From its first frenetic pages to its wrenching final ones, Lou Berney takes us on the ride of a lifetime...It's a crime story, a love story, a deeply American story. With November Road, Berney proves beyond doubt that he's one of the most talented crime novelists working today." — Megan Abbott, New York Times bestselling author of You Will Know Me, on November Road
"November Road is a thriller that defies categorization. A triumph of plot and prose and a brilliant depiction of the contradictions of 1960s America, the innocence, the violence, and the longing." — Ivy Pochoda, author of Wonder Valley and finalist for the Los Angeles Times Book Prize, on November Road
"November Road is an absolute gem of a crime novel. Utterly immersive and pitch perfect in every way." — Gilly Macmillan, New York Times bestselling author of What She Knew, on November Road
"In November Road, Lou Berney shows you everything that crime fiction can be—a tightrope story that takes you across the entire landscape of America, lived by characters as real as anyone you've ever known... It's the best book I've read this year—and second place isn't even close." — Steve Hamilton, New York Times bestselling author and two-time Edgar winner, on November Road
"Berney's emotional, empathic writing keeps the dynamic between these two lost souls intriguing, and it resonates on a larger scale, placed as it is against such a vivid backdrop... and there's no complaint from this reader on his keeping the pages turning." — Entertainment Weekly, "Required Reading", on November Road
"Berney's gentle, descriptive writing brilliantly reflects these times of both disillusionment and hope... Perfectly captures these few weeks at the end of 1963—all that was lost and all that lay tantalizingly and inevitably just beyond the horizon." — Kirkus Reviews (starred review) on November Road
"Berney's follow-up to The Long and Faraway Gone explores relationships between two complicated and realized characters. With depth and genre crossover appeal, this literary crime thriller will please fans of Dennis Lehane or George Pelecanos and also satisfy a wider audience." — Library Journal (starred review) on November Road
"Berney creates nail-biting suspense by placing Marcello's top hit man on Guidry's trail, the book's power derives from Charlotte, who finds hidden strength as she confronts unexpected challenges. This is much more than just another conspiracy thriller."     — Publishers Weekly (starred review) on November Road
"Berney bends his notes exquisitely, playing with the melody, building his marvelously rich characters while making us commit completely to the love story, even though we hear the melancholy refrain and see the noir cloud lurking in the sky. Pitch-perfect fiction." — Booklist (starred review) on November Road
"Conceived in ingenuity, executed with vision and steeped in carnage, November Road... examines hope lost, hope found—and the upshots, expected or otherwise, of love." — Fredericksburg Free Lance-Star on November Road
"November Road is a transcendent, immersive novel that melds elements of many genres—crime, travelogue, and romance among them—seamlessly against the backdrop of a nation divided." — CriminalElement.com on November Road
"Berney is the kind of writer who knows how to tickle a reader's expectations with the familiar, then raise the bar with superb character development, humor, and gritty fun." — Austin Chronicle on November Road